Fundraising Support
The wealth of clubs, groups, activities and events going on in Frome help make the town such an interesting and unique place to live. In recognition of this, Frome Town Council has, for many years, run a community grants scheme to support projects that benefit people living in Frome. In 2016/17 a total of £65,000 is allocated to grants and to fundraising support for Frome projects. A portion of this is spent contracting the services of a fundraising professional. Any local group that feels they could use some advice with their business or project planning or needs specific help on how to approach funders, contact Community Projects Officer, Kate Hellard to talk through your needs and she can put you in touch with the fundraiser as appropriate. Contact Kate by email at hellardk@frometowncouncil.gov.uk  or telephone 01373 465757.
Frome Town Council has also subscribed to an online directory of grant-making trusts that any local community groups can use free of charge. Contact Kate, as above, to book a slot to make use of this service.
Community Grants
We are accepting small grant applications to the Mayor's grant fund which are up to £300.
Please click Grants application form 2017-18 to download the application form. Click Criteria, Terms & Conditions 2017-18 to download the Terms and Conditions and criteria.
If you have any questions please contact Hannah by email panicciah@frometowncouncil.gov.uk or telephone 01373 488573.
Crowdfund Frome
For funding over £300 you will need to sign up for Crowdfund Frome. Please follow the link below for more information.
http://www.crowdfunder.co.uk/funds/frome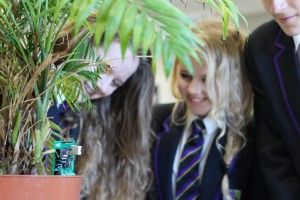 Pictured is a photo from the 'Plant Notes' team from Frome College who were awarded a grant last year. They went on to win first prize with their project at the national science and engineering competition.