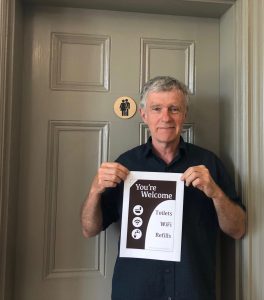 You're Welcome' is a Frome Town Council initiative to identify organisations in Frome that are happy for the public to use their loos without needing to make a purchase.
The scheme has now been relaunched with the addition of a further four businesses signing up to offer their facilities to residents and visitors alike.
Councillor Peter Macfadyen said, "It is really good to see more organisations opening their doors to members of the public so they access clean, safe and in the majority of cases, accessible toilets in convenient locations across the town. The scheme also includes other services such as free water refills which helps to reduce the use of single use plastic." 
The participating businesses have agreed to let members of the public use their toilet facilities during normal opening hours, free of charge and display the 'You're Welcome' sticker in their window. The Council give a contribution of up to £250 to the businesses for upkeep. 
Matt Rae, Manager of The George Hotel who is an original part of the scheme, said "Frome is rapidly becoming a larger community and we strive to be a community hub. We have always been about friendly and efficient service and offering a safe and comfortable environment. We welcome everyone into our business and will always ensure that we are doing our utmost to look after them. The 'You're welcome' scheme is a continuation of this ethos and we really couldn't miss the opportunity to continue to be involved." 
The Cornerhouse is a new addition to the scheme. Tom Ward, Manager said, "The Cornerhouse is happy to support the 'Your Welcome' scheme in Frome. We would like to help the community in any way and always welcome people into the pub to use the facilities. We are here to help."  
Businesses who have signed up include: Black Swan Arts, Cheese and Grain, Café La Strada, Moo & Too, Masons Arms, The HUBnub Centre, The River House Café, The Cornerhouse, The George and the Old Bath Arms. Frome Town Hall also offers use of facilities – including level access as does Black Swan Arts 
Find out more or to see a map of where the businesses are here.