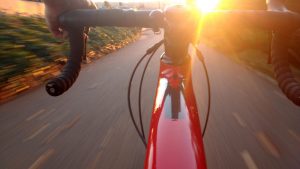 The United Nations recently recognised the humble bicycle, which celebrated its 200th birthday last year, with World Bike Day on the 3rd of June. The UN wants to celebrate and promote the bicycle because it is increasingly being seen as a 'silver bullet' to solve several twenty-first century problems, including air pollution, congestion, obesity and heart disease.
To help unlock the many benefits of the bicycle in Frome, Frome Town Council have teamed up with Love to Ride to run a fun, free competition to get more people cycling. Cycle September, as the name suggests, runs throughout the month of September. It's completely free for everyone who lives or works in Frome – and their workplaces – to take part and everyone is invited to join in, it doesn't matter if you ride every day or if you haven't been on a bike in years.
Cycle September is based on a Workplace Cycle Challenge format that Love to Ride have developed over the last ten years and that has engaged 373,000 people worldwide. Cycle September has run in the UK for the past two years, with 24,000 people taking part in 2017, but this year it's going global. Their Director, Sam Robinson, explains: "Cycle September has been a huge success over the last two years but we've also been getting more people on bikes overseas, with over 40,000 people taking part in our first national event in the US. We're really excited to invite workplaces worldwide to join us to get more people on bikes".
There will be friendly competition on local, national and global leaderboards in seven size categories. Workplaces with the highest percentage of staff riding a bike in September will win their category – and individuals will be eligible for prizes for riding and encouraging others. There will be holidays, bikes, unique, upcycled, UK-made cycling bags from UPSO and lots of other prizes up for grabs.
To enter the draw, individuals just need to register on the Love to Ride website – which only takes thirty seconds – and enter their rides manually or by linking a cycling app (Ride Report, Strava, MapMyRide or Endomondo). The site enables members to set themselves goals, track their mileage, earn badges, share photos and encourage others to ride, as well as allowing workplaces to incentivise their staff to ride and monitor cycling participation at their sites.
The aim of Cycle September is to help people to enjoy the fun and freedom of cycling and help them to access the support they need to ride for transport. To get involved go to lovetoride.net/frome or email parkere@frometowncouncil.gov.uk