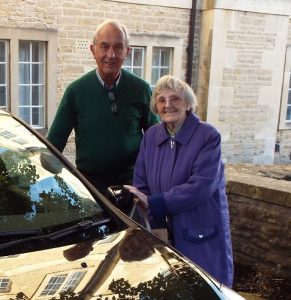 Frome Community Drivers was set up by Frome Town Council with support from Frome Medical Practice in December 2016 and is now run by Active and in Touch.
Volunteer drivers provide a lifeline for people in Frome and the local area who are isolated and need to access the things they need safely and cheaply. Our drivers will go as far as the RUH in Bath if needed.
A contribution of a £3 booking fee + 60p per mile is requested to cover drivers' expenses with 50% discounts if you have a bus pass.
Drivers can be booked by calling 07596 591391.
New volunteer drivers are always welcome. For more information about volunteering or any other enquiry call 07596 591391or email fromecommunitycars@gmail.com. You can also visit the Active and in Touch website.
Other local schemes include:
The Patient Transport Advice Centre
The first point of contact for all Somerset GP patients enquiring about transport to their NHS appointments. Lines are open from 8.30am – 6.30pm Monday to Friday.
Call 01278 727444 or email transport@somerset.nhs.uk
British Red Cross Somerset Independent Living Team
Home and transport support offers transport to or from hospital or doctors' appointments and other trips near or far. They can support with shopping or companionship on a short term basis. All drivers are volunteers who use their own cars.
Call 01823 273707 or email: somersetindependentliving@redcross.org.uk
Mendip Community Transport
This service provides transport for senior citizens, those with disabilities and socially excluded persons (i.e. no access to local bus routes). It is a first come, first served service so passengers are advised to give as much notice as possible, they can book up to 14 days in advance (15 days for medical appointment). Bus passes are accepted.
Call the Slinky Service on 01749 880482
Hospital Car Service
This service provides transport to hospitals outside the Mendip Area for patients who are unable to use conventional public transport. Cost 60p per mile with a reduction if a bus pass is held.
Call Mendip Community Transport on 01749 880613
The Blue Badge Scheme
Provides national parking concessions for people with severe walking difficulties or who are severely sight impaired and who travel as drivers or passengers. People who have a blue badge can park close to their destination in on-street parking and car parks. Call Somerset Council on 0300 123 2224 or apply online via the website.
ACE – Accessible Countryside for Everyone
This site provides information on disabled access, wheelchair walks, easy access, access for all, mobility, walks on wheels, miles without stiles, buggy walks, taxi companies with disabled friendly taxis, along with wheelchair and scooter hire info.
Concessionary bus pass
English National Concessionary Travel Scheme Passes are available for residents of Somerset who are of pensionable age or eligible on the grounds of disability. The pass allows you to travel free on buses in every area of England subject to certain time restrictions.
Call Transporting Somerset on 0845 345 9155 or email: transport@somerset.gov.uk
Healthcare Travel Cost Scheme
It may be possible to claim back travel expenses to hospital appointments, if you are in receipt of certain benefits. You may be able to get financial help from the Healthcare Travel Costs Scheme if you: are on a low income; need NHS treatment at a hospital, other NHS center or private clinic; have been referred by a healthcare professional.
Disabled Persons Railcard
You may be able to apply for a disabled person's rail card, if you are in receipt of certain benefits, are visually impaired or registered as deaf, please see their website for details, the card will allow you a third off rail travel and costs £20 a year.
Call 0845 605 0525 or email:disability@atoc.org
National Express
Senior Coach Card, Disabled Coach Card and Young Persons Coach Card give a third off standard fares. Coach Card costs £12 a year.
Call 08717 818178