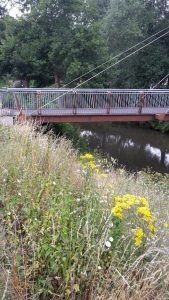 Potential flood risks to 300 properties in Frome are being lessened thanks to the Somerset River Authority funding repair work on the river banks in the town centre.
The improvements to worn-away parts of Frome's flood defences are due to start around Monday, 9 July and carry on into early August. The activities will include repairing the stone revetment, installing rock armour and repointing mortar from Town Bridge to past Welshmill Weir.
Mayor of Frome, Richard Ackroyd said, 'Although Frome has not experienced serious flooding since the flood alleviation scheme was built in the 1970's, it's important that we continue to increase Frome's flood defences wherever possible. We are really pleased that the Somerset Rivers Authority is ensuring this work can happen.'  
Cllr John Osman, Chair of Somerset Rivers Authority, said: "There's been lots of good local involvement in this project, from community groups, Frome Town Council, Mendip District Council, Wessex Water and Network Rail. The result is a series of activities that will help to protect the heart of Frome. 
"The last time repairs were done here was more than 10 years ago. Big improvements can now be made because of the way the SRA is funded by the people of Somerset to get more done to meet local needs."
The works are centred on strengthening a fortified layer that shield's river banks from erosion meaning the river can safely carry more water away and so reduce flood risks. An amphibious excavator will remove broken-off chunks of concrete and put rocks in place to protect the river banks and a tug boat will be used to carry materials. Frome Canoe Club are removing their slalom poles to allow for easier and safer journeys up and down the river.  
Anyone with questions about the works should contact the Environment Agency – email WessexEnquiries@environment-agency.gov.uk or call 03708 506 506.