Thank you to all who entered the Christmas Card competition this year – for the Mayor's Christmas card.  The winning design was by Frome resident and Artist Caroline Walsh-Waring. As well as being the Mayor's card, the design will also feature on the front page of the Frome Christmas Programme; runner up Eva Goddard will also have her design featured within the publication.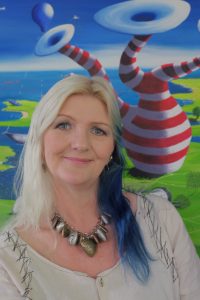 Caroline said "Since finding our home in Frome nearly 8 years ago I have been continuously struck by how fortuitous our choice was. As a family, we have made many friends, become closer to family who live nearby and our lives have flourished.  I originally trained in Textiles but had to take office work to survive, 17 years ago I gave up a busy full-time job in London to bring up my children and hopefully find some time to resurrect my first love of art.  In this creative town, I have found a voice for my work helping me to realise my ambitions to be a professional artist.  I am absolutely thrilled to have my design chosen for the Mayor's Christmas Card and to lend a small brush in representing Frome."
Pictured, Caroline Walsh-Waring, photo taken by Simon aka Etch Sketch during this year Frome Open Studios.
Eva said "I have lived in Frome for over 40 years.  With a creative background, I specialise in calligraphy, line drawings and paintings – often of flowers, gardens and views. My lettering is often used for wedding place names, designs, cards, labels etc.  I especially enjoy hand writing alphabets, in a variety of mediums. My inspiration for the Frome Christmas card design came from 1940's cards promoting towns.  And I also thought it would be fun to make it for 'colouring in'."
The winning designs will be published later next month in the Frome Christmas event brochure.