Hi, this is Jenny from the Wild Bunch with our latest column.
I really love this time of the year with spring fully flourishing in all its glory; I hope you are able to enjoy it too. I like to listen to the joyous sound of birdsong, enjoy the beautiful blossom on the trees, the flowers emerging into an array of colours, shapes and enticements. I can feel the anticipation of things to come, it's very hard to keep me inside.
I have been busy in the last few months creating a wildlife pond in my patch, it has been hard work but worth it as it is already attracting wildlife. Some damselflies have visited, water boatmen have skated on the surface, birds are using it to bath in and to have a drink. If you have time, I would suggest its worth creating a wildlife pond, even burying a little bucket full of water can start this process of attracting and supporting wildlife. As long as the wildlife that visit can get out of the pond, this is important, things will visit and delight.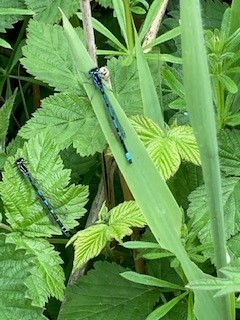 This month is 'No mow May' so if you have a lawn or an area of grasses maybe don't cut it during this month or for the summer, what about 'No mow Summer'? And see what emerges, it will look amazing and so full of life. Grasses can be beautiful, and flowers and insects will appreciate the food and shelter. Set aside an area to be left and see what happens? Meadows can be planted in a pot too, knapweed, clover and buttercups create important nectar and pollen sources for insects and bees.
In the Wild Bunch we encourage attracting and supporting wildlife into our gardens, window boxes etc. Supporting our wildlife to feed, breed and hide in the natural areas in our gardens, parks etc.
The Wild Bunch are next gathering on location at Welshmill Pond on 15th June 1.30-2.30pmfor some pond dipping as part of Great Big Green Week. This is a free event and all are invited, let us know you're coming by booking here.