Following on from the 'Wild about Frome' project last year, Frome Town Council is now 'Wild about Trees' and will be planting over a thousand trees this February half-term and they need your help.  As part of the town's efforts to fight climate change, 500 trees are to be planted at Birchill Lane and a further 800 trees at Weylands – a total of 1300 trees!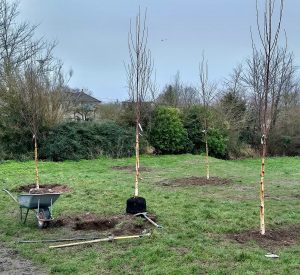 The 'Wild about Trees' project aims to plant thousands of trees in Frome over the term of the current Council and to continue planting trees into the future. The planting at Weylands aims to create one or two new woodland areas, whilst keeping grassed spaces next to the main path for play and recreation. Birchill will see the planting of a native woodland copse below the allotments with species suitable for the riverside field.
The Woodland Trust charity will be supplying the native UK species, which will include common oak, rowan, wild cherry, beech, silver birch as well as shrubs such as hawthorn and guelder rose.
Frome Town Council's Environment Manager Chris Stringer said "We're passionate about our trees here in Frome; whether that's planting them or protecting them. These trees will not only help in our fight against climate change but will also create habitats for wildlife, increasing the biodiversity of the area.
We want as many people as possible to help us plant these trees. It would be amazing if we had 1300 different people all plant a tree."
The Government's Climate Change Committee has estimated that over 1.5 billion trees will need to be planted across the country in order to help reach the country's 'net zero' target of 2050. Frome Town Council is aiming for net zero by 2030, with the Wild About Trees project playing a major role.
Frome Town Councillor, Rich Ackroyd, said "This project is a hugely important as we work towards our 2030 target. At a time when it's easy to feel overwhelmed by the scale of the climate crisis, this is a great opportunity to offer the Frome community a chance to take some positive action, and the woodlands created will be a symbol of their action for years to come."
The tree planting will take place as follows:
Birchill – Tuesday 18th February 10am – 2pm
Weylands – Wednesday 19th February 10am – 2pm
To book your free space please go to: www.frometowncouncil.gov.uk/wild-about-trees
Published 24/01/20