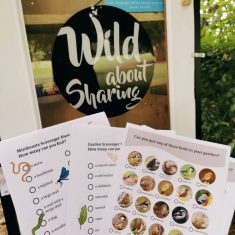 Families in Frome have been enjoying a range of nature-themed activities throughout the summer that can be done at home or out on a walk. The team at Frome Town Council pulled together ten free activities and posted them on the Discover Frome website and invited everyone to enjoy and appreciate nature in creative ways and give children a chance to learn about the natural world.
The activities include creating a bug hotel, turning your walk in the park into a treasure hunt, and using leaves and petals to make imaginative works of art. There are also three PDFs to download including a minibeasts scavenger hunt and a bird-spotting checklist. You can pick up printed copies of these at any of the Wild About Sharing boxes or from the Discover Frome information point too.
As October begins, this is a great time to help children learn about the seasons and there is still plenty to see on a nature walk. The activities that attract wildlife to your garden will be particularly appreciated now by insects and small animals looking for shelter in the cold weather.
Cllr Mark Dorrington commented: "The team at FTC have done a great job in collating these nature activities over the summer, and we know many families have enjoyed taking part, especially as some of the normal play activities have been restricted this year. The summer activities have finished for now but keep an eye on the Discover Frome website for some special autumn activities coming soon."
To see all of the Wild about Nature activities, visit www.discoverfrome.co.uk/category/wild-about-nature
Published 30th September 2020