Despite Frome Town Council's best efforts over the past six weeks Somerset County Council are going ahead with the Welshmill Lane resurfacing this week.
This will mean the closure of Welshmill Lane will clash with the closure of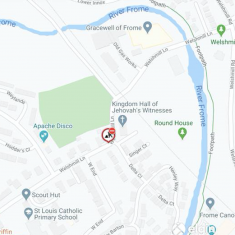 Market Place and cause significant disruption to road users and annoyance to the community in the town.  The works started today and will go on until the 31st July.
Cllrs Anne Hills, Leader of the Town Council said, "We are deeply disappointed that about the timing of the resurfacing work in Welshmill Lane.  The County Council have known for some time that the Market Place is closed to through traffic and that many road users would divert via Welshmill Lane. I can only apologise for the expected inconvenience.
"The County Council, despite several warnings decided to go ahead regardless of the impact on the people of Frome. In my view this shows a complete disregard for our community and the chaos that this is likely to cause. It would have been so easy to push this work back."
Complaints should be made to Leader of Somerset County Council, Councillor David Fothergill at DJAFothergill@somerset.gov.uk