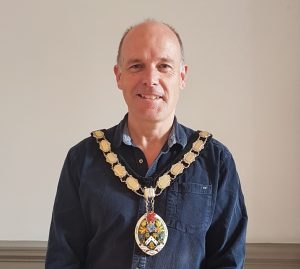 At yesterday's Annual Council meeting Rich Ackroyd was elected as Frome's new Mayor for 2018/19 along with Deputy Mayor Cllr Mark Dorrington.
Rich thanked the previous Mayor Shelia Gore and her deputy Nick White for everything they had done over the last year and for 'everyone in Frome for making this one of the best places to be in the whole of country.'
He said he is looking forward to supporting and celebrating the huge amount of community activity already happening in Frome as well as encouraging even more.
As the meeting continued Peter Wheelhouse, Deputy Town Clerk highlighted that with many major housing schemes either in construction or proposed, there is a need to consider the wider needs of the community. This includes jobs, education, healthcare, retail, leisure, open spaces and other community facilities. Councillors agreed to hold a series of public events in July so that the community can have its say.
The plan is to develop a vision that will help the town to respond to development proposals as they come forward as well as the forthcoming review of the Mendip Local Plan. The work will be steered by a 'Future Frome Panel' involving representatives from all tiers of local government including town, district, county and the adjoining Selwood & Berkley Parish Councils.
After 25 years at Frome Town Council, Jackie Wheeler delivered her last Annual Return. Rich thanked her for all she has done for the Council and the town and wished her well in her retirement.
There was an update to the terms and conditions of the Mayor's and FTC Community Grants, particularly looking at ways to encourage smaller grassroots organisations to apply for the Mayor's Grants. So, if you have a great project, the new grant application window is open for both schemes from 29 May to 9th July. You can find out more and read the amended criteria here.
The capacity of the Ranger team was also discussed, and it was agreed to recruit an additional part time role as soon as possible. You can find more details about the job opportunities here.
As always, we look forward to keeping you up to date with what's happening in Frome and everything our new Mayor gets up to over the next year. So keep an eye on our website (www.frometowncouncil.gov.uk) and please make sure you're following us on Facebook, Twitter and Instagram.