The Frome Independent market is to delay the start of their 2016 season in order to ensure it has been able to fully address the traffic and congestion issues experienced at the end of last year as a result of the market's popularity and growing visitor figures.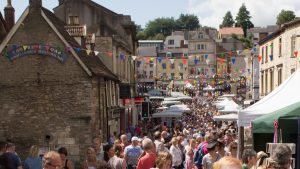 The Frome Independent has gone from strength to strength over the past few years and in the latter half of its 2015 season it experienced visitor figures of up to 15,000 per market. The Frome Independent estimate that the market is bringing in the region of £2 million of revenue into Frome throughout a year, which is a marker of success and cause for celebration. However, the volume of visitors has created new challenges for the market's logistics and the town's infrastructure. In order to ensure the long-term viability and sustainability of the event, the market's management team is consulting and planning with all three tiers of local government, transport agencies and the emergency services.
Tabitha Clayson from The Frome Independent said "Our primary desire is that the market has a positive impact on Frome overall. Following advice from our experienced event management team and H&S consultants, as well as responding to concerns raised by residents and visitors last year, we have been working with the various authorities over the last couple of months to make sure that the event's infrastructure, logistics and management is robust for the forthcoming 2016 season and to ensure the continued success of the market. We have made progress, including securing improvements in train services to Frome on Sundays in future, but it has become clear that certain
elements need more time and coupled with the current extensive road works in Frome, it means that we have decided to delay the start to 2016's markets. We are working hard towards an April start and look forward to welcoming everyone back soon."
Commenting on this announcement, Cllr Peter Macfadyen, Leader of Frome Town Council said,
'The Frome Independent has become a very important event in the lives of many in the community and is bringing significant revenue into the town benefiting not only stall holders but also other businesses in Frome and their employees.  Now that it attracts such a huge number of visitors, it is important that the event runs as smoothly as possible.  For these reasons, Frome Town Council is working closely with the market company to ensure that the right infrastructure is in place for the forthcoming 2016 season.'
For all the latest market news keep an eye on The Frome Independent website and follow The Frome Independent on Facebook or Twitter.
www.thefromeindependent.org.uk
Facebook The Frome Independent
Twitter @morethanamarket
Photo credit: East West Photographers ©The Frome Independent