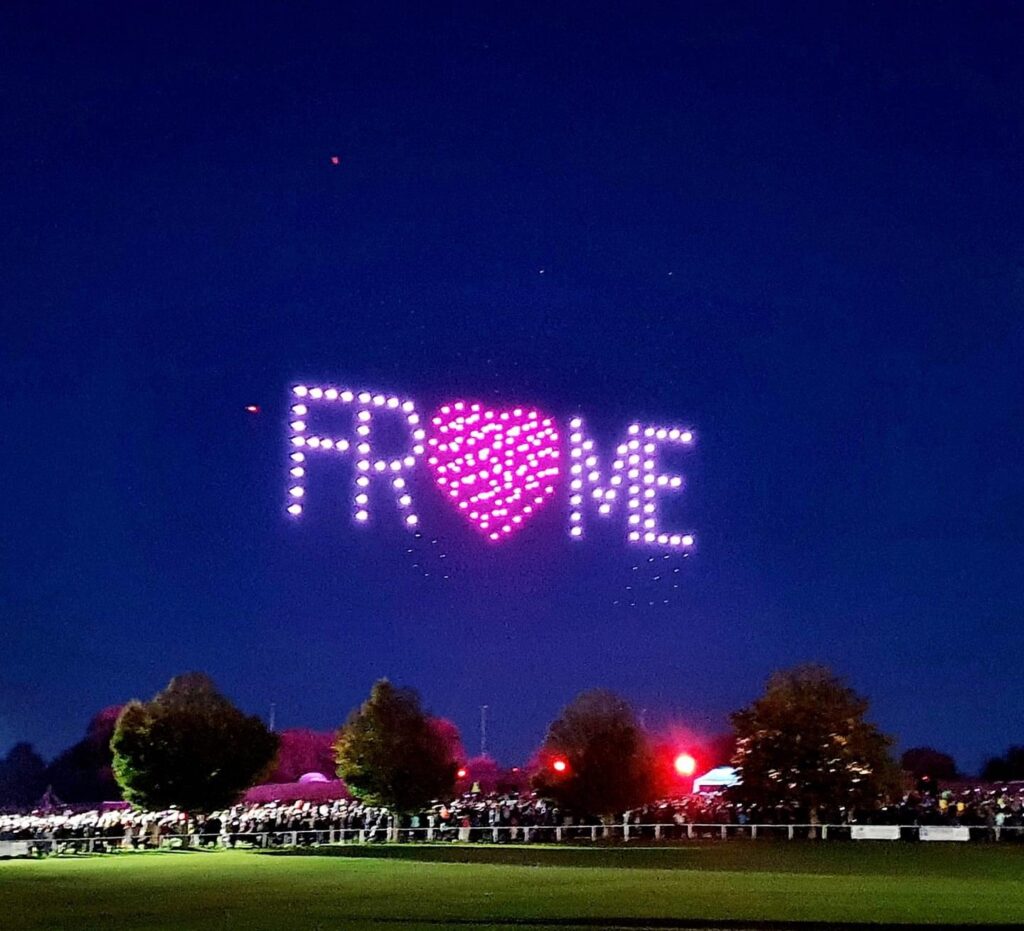 On Saturday 4th November from 5:30pm – 7:30pm, a spectacular 'lightworks' show from local company Celestial in partnership with Frome Town Council, will take place at the Old Showfield.
"Close Encounters of the Frome Kind" is an extra-terrestrial extravaganza that aims to celebrate the colourful character and the quirk of Frome with its blend of innovative drone light show technology, UFO intrigue and a touch of celestial magic. The show is designed and delivered by local company Celestial who, since their last Frome display (the first with a live audience), has gone from strength to strength delivering super-premium shows all over the world for some of the biggest brands, including Eurovision, London New Year's Eve and many more. The company, based in Frome, specialises in aerial storytelling, performed by hundreds of brightly coloured drone lights in the night sky.
Tony Martin, CEO and co-founder of Celestial said: "We are proudly replacing unsustainable fireworks with a mind-bending 'lightworks' show. We are thrilled to be able to bring a show to Frome again – we live and work here, and it is important to us that our community can benefit from our success. It's been a long time in the planning, and we are excited to provide this spectacular show, with Frome Town Council for the people of Frome. The display will bring some unseen creative magic to really embed drones as the new, eco-friendly firework display."
As a prelude to the show, there will be entertainment including face painting and attractions, as well as an excellent selection of local food concessions. All of which will help set the atmospheric scene for the main act, an exciting showcase drone display. Mayor Philip Campagna said "Following our last drone collaboration the cry often goes up on various forums – what were those lights? Is it a UFO, is it plane? We are delighted to confirm that this time no, it is in fact a fantastic drone spectacular launched by Celestial to replace fireworks this year for Frome residents. All we ask is that Frome residents really get behind this and help us raise money with the Rotary for excellent causes."
Co-founder John Hopkins goes further: "Close Encounters of the Frome Kind invites the audience to ponder the increasing probability of extra-terrestrial life beyond our planet and humanity's galactic dance in the universe. Given the amount of UFO sightings in the Frome area, it's a show our team have been excited to produce for some time. Featuring hundreds of drones and epic show lighting, this highly entertaining show will bring together cosmic history, mystery and technology in a mesmerising spectacle. It is Celestial's 'thank you' to Frome and we hope our community enjoys it."
Whilst the event is free, Frome Rotary will be collecting donations and partnering with local charities such as The Pod and Fair Frome. The last Celestial drone show for Frome resulted in the greatest giving spree Frome Rotary had ever had, and the aim is to surpass that again this year.
There are a few things that are essential for residents to know: there will be no parking at the event and as such, priority booking with be given to Frome residents – please walk where at all possible and if you need to park, please use the town centre car parks – further information will be on the web page.
Only blue badge holders will have access to car parking – please book your space and produce your badge on entrance. The event is a family event and alcohol free.
Tickets are free but you will need a ticket so please book using your postcode on our link here from 2nd October.: https://bit.ly/lightworks2023
Those unable to use online booking should call into Frome Town Hall for assistance or ring on 01373 465757.