Local residents and Frome Town Council are joining the UK's largest litter pick to try to clean up the country in time for June – when the official celebration of the Queen's 90th birthday will take place.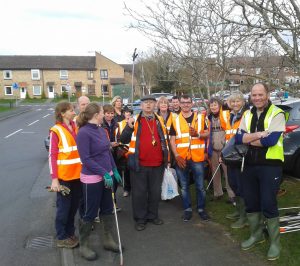 One big litter pick is being organised by local residents in the Stonebridge area of Frome on Saturday 5 March – as many volunteers as possible are needed, to make the neighbourhood as clean as possible for the spring.  The litter pick is being organised by Annabel Macey of HopeFrome, local District Councillor Adam Boyden, and Frome Town Council's Environment Manager, Chris Stringer.
Annabel Macey explains, "Last year we had more volunteers than ever with over 20 residents taking part. We worked for an hour, clearing bushes next to paths, open spaces, the stream and the old Showfield. Everyone had fun and together we made a real difference. We found drinks bottles, cans and food wrapping, an old chair and parts of a HiFi."
District Councillor Adam Boyden commented, "With improvements to how street cleansing is managed, I hope to see less litter to pick up this year, but we will see!  Joining in is a great way to help keep where we live in a good state, and is great for community spirit."
 To get involved, come along on Saturday 5 March at 10.30am outside Tesco Express on Forest Road, the clean-up will finish at 12 noon. People will need to wear suitable outdoor clothing, footwear and gloves. All other equipment will be provided. The event is open to everyone and children are welcome.
Contact details for the clean-up of the Stonebridge area are Annabel: themaceys4@talktalk.net, Adam Boyden 07809 284817 / aomboyden@yahoo.co.uk. Frome Town Council, Chris Stringer 01373 465757.Frome Town Council is looking to support other litter picks that are being organised around the town on this weekend. If you are planning one then contact Chris Stringer, Environment Manager: cstringer@frometowncouncil.gov.uk, 01373 465757 for more information in how you can get support for your clean-up.