Victory in Europe Day (VE Day) celebrates the formal acceptance by the Allies of World War II of Nazi Germany's unconditional surrender of its armed forces.  This year, Friday 8th May marks 75 years since the guns fell silent at the end of the war in Europe.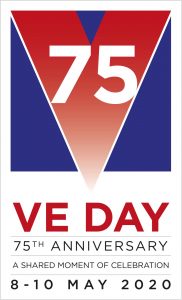 Sadly, the events we did have planned to help celebrate have had to be cancelled, but that doesn't mean we can't mark the anniversary by holding a 'stay at home' commemoration.
Mayor Mark Dorrington said, "VE Day coincides with the early May Day bank holiday, making it the perfect time to be together, within your household, for a celebration. We  may be in lockdown due to the coronavirus outbreak, but that doesn't mean we can't still have a weekend of celebrations to mark this special moment in history."
Here's how you can get involved:
Why not decorate your windows at home with red, white and blue bunting, you can find out how to make the bunting, along with posters to colour in on the VE Day 75 website
Children can find out all about VE Day; historian and presenter Dan Snow has set a creative challenge  to research what VE Day is all about, visit the VE Day website to find out more. The British Legion website also hosts a variety of learning resources
Set up your own tea party in your garden, and wear something red, white and blue or 1940s vintage dress and re-live the event through the many TV, radio and online broadcasts that are scheduled on the day
If you live alone, ring your friends or video call them to celebrate from the safety of your own home.
The Royal British Legion is calling on people across the UK to join in a moment of reflection and remembrance at 11am on Friday 8th May.
The Organisers of VE Day75 are also encouraging all those taking part to undertake the Nation's Toast to the Heroes of WW2 at 3pm on 8 May.  From the safety of your own home people can stand up and raise a glass of refreshment of your choice and undertake the following toast: 'To those who gave so much, we thank you.'
And finally, at 9pm, why not join a singalong, for a UK wide rendition of Dame Vera Lynn's "We'll meet again". Jane Norris of the Frome branch of the British Legion added "You can watch and join in on BBC One who will be featuring the singalong as part of their VE Day broadcast, the words can be found on the British Legion website, it'd be great to hear a rousing effort on the doorsteps of Frome."
We hope you are able to join in and recognise such an important occasion in our country's history from the safety of your own home.
Published 4th May 2020.