I mentioned last week that we would be holding our first online full council meeting last Wednesday. I am pleased to report that it seems to have been a great success! All town councillors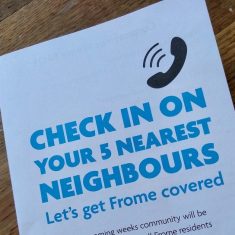 attended, together with representatives from district and county councils and, very importantly, members of the Frome public. We managed to debate politely yet thoroughly the agenda items, as well answering questions posed by those attending online.
The following evening was the first Planning Advisory Group meeting to be also held online. It may seem that the country has shut down, but business goes on, and planning applications are still being submitted. Our planning group discusses every application submitted in Frome and makes objections and recommendations where we feel necessary.
Please join us at the next Council meeting on 20th May (my last as Mayor as I will be handing the chain to my successor elected that night) and the Planning meeting on 14th May. Both are at 7pm and details on how to join will be on our website www.frometowncouncil.gov.uk
One issue raised at the meetings is how local businesses can access government support during this crisis. Our council has always been keen to support commerce in our town and ways we can help can be found at https://www.frometowncouncil.gov.uk/your-business, where you can also sign up for our Business Updates which will be sent direct to your inbox. More specific financial support is accessed via Mendip District Council and they have a lot of useful information at www.mendip.gov.uk
On a more local level, we asked Frome residents to make contact with your 5 nearest neighbours and you have done a fantastic job looking out for each other and providing support to each other where you can. Please accept my thanks for everything you are doing, and please stay safe.
Published 1st May 2020