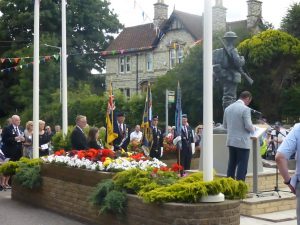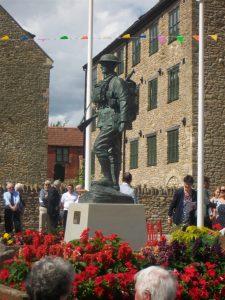 The much discussed and widely reported bronze statue of local man and WW1 soldier, Sgt. Charlie Robbins was dedicated at a special service in Frome on Sunday 3 August.
A large and respectful crowd attended the event at the Frome Memorial Garden outside the Memorial Theatre. The service was led by Fr. Neil Maxted, Honorary President of the Frome Branch Royal British Legion. Poems were read by Sarah-Jane Bungay. BBC Points West presenter and daughter of Frome and Jane Norris, Chair of Frome Branch Royal British Legion. There were also addresses by Humphrey Barnes, Chairman of the Frome Memorial Theatre Trust, Councillor Nick White for Frome Town Council, Stephen Francis of Tyco (formerly J W Singer) who originally cast the statue and Jonathon Cheal, a local historian. The finale was the laying of poppies by local children and the reading of poems written by the children of Frome by Sarah Bullmore, Headteacher of Christ Church First School.
Frome Town Council wishes to thank all those that were involved in this project and who attended the service yesterday, special thanks to Tyco for the loan of the statue on behalf of all the people of Frome.