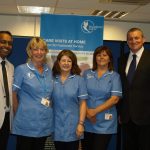 In July, Bluebird Care Mendip launched its homecare and support services in Frome. The company has based its headquarters in Frome and will deliver its homecare and support services to the town and the surrounding villages. Over the next year they plan to expand its operations to the City of Wells and to the towns of Street, Glastonbury & Shepton Mallet. This expansion will bring over 100 local jobs to the area within two years.
Bluebird Care is one of the nation's leading providers of care in the home, demonstrating the highest standards of quality, professionalism and expertise with every visit.
Managing Director Masen Naidoo says: "I am thrilled to be part of a new venture, bringing the highest quality of homecare to the residents and families of the Mendip district. We are passionate about the homecare and support we deliver to our customers in their own homes, and our staff are the corner stone of our success. Being a care worker is an incredibly rewarding career, and we work with all of our staff to make sure that they have the support they need to deliver the best possible quality of care to our customers."
The Bluebird Care brand is synonymous with delivering the highest quality of personal care evoking a high level of trust with customers and their families.
The company's Care Manager Patrick Godfrey explains what sets Bluebird Care Mendip apart, "We deliver homecare of the highest quality that we would expect for our own family. Our customers can expect to receive an individually tailored program that allows them to pursue their independent lifestyle in the home they love regardless of their age or disability. We also offer a comprehensive range of domiciliary care and support services including Dementia & Alzheimer's care, respite care, and 24 hour Live-in Care. We aim to do all that we can to help anyone that needs homecare and support in their own home."
Town officials said they were elated with the move, with Economic Development & Regeneration Manager Peter Wheelhouse, calling it "a substantial investment in Frome and demonstration of a high level of confidence from Bluebird Care Mendip in our town. We are fortunate to have one of the nation's leading care in the home companies in our community, and we look forward to growing with them well into the future"