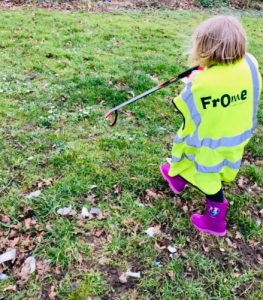 Nearly 20 Litter Warriors took to the streets on Saturday 13 April to give the area around Lower Innox a freshen up.
Each armed with their own litter picking set, the team tackled Lower Innox, Innox Hill, the river edge, along the cycle path and around Weylands. They filled around 10 bags and also collected a child's bike, a commercial battery and a plastic washing basket.
Nick Ray, who is one of the organisers of Frome's Litter Warriors said, "It was great to see everyone getting stuck in and being so enthusiastic and by the time we'd finished the area looked much cleaner and tidier which was very heartening. Now we're doing these litter picks regularly we hope even more people will get involved."
The next scheduled litter picks are on Thursday 25th April at 2pm, meeting in front of Co-op on Culverhill Road and Saturday 11th May at 10am meeting on the corner of St John's Road and Rodden Road.
Everyone is welcome to take part in the litter picks, just turn up at one of the dates above. There are also children's gloves and litter pickers so all the family can get involved.
If there is an area of Frome that you would like the Litter Warriors to tackle next please email them at fromelitterwarriors@gmail.com.
Published 17/04/2019