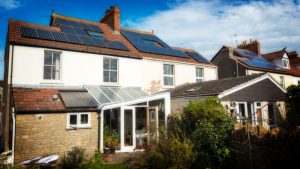 More than 70 people have expressed interest in Frome's discounted Solar Streets offer so far. Fourteen people have paid deposits for installations and 38 surveys have been conducted.
The heavily discounted solar is being offered by local contractor Iddea, in partnership with Frome Town Council and Frome Renewable Energy Co-op.
The solar panels cost around half of the average price as they will be installed on ten homes at a time, saving time, transport and carbon emissions.
A second information evening about the Solar Streets offer is being held at 7pm on 21st May at Frome Town Hall.
Michael from Iddea said 'We have been blown away by the response to this offer. Everyone we have spoken to has been so positive and for many it's the carbon savings rather than the money savings that they are particularly keen on. We have also been having interesting conversations with households in neighbouring villages who don't have gas and are exploring options for these households to cut carbon and costs through solar and other technology such as air source heat pumps.'
Frome Town Council's Resilience Manager Anna Francis said 'It's fantastic that there has been so much interest in the solar offer. We need as many people as possible to get on board and cut their electricity bills and carbon emissions as part of Frome's response to the climate emergency. There is also a £100 referral fee for anyone who recommends a friend or neighbour who gets the solar installed.'
For more information visit our Solar Streets page.
Published 03/05/2019