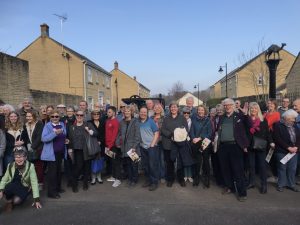 Casting The World, a new National Lottery Heritage Lottery funded project, explores the life of J.W Singer – one of the most significant figures in Frome's history.The project launched on Saturday 23 February at Frome Heretage Museum to celebrate what would have been J.W.Singer's 200th birthday.
Led by project curator Sue Bucklow, over 100 people took part in a guided walk of sites around Frome associated with the former J.W.Singer & Sons town centre foundry at Waterloo, which once employed more than 700 people and produced statues now be found across the world.
A cake was then cut by Steve who had rescued the glass negatives at Singers from the site in the 1960's.  Hailed a conservator hero by Steve worked for Singer's for over 50 years. He said that he was proud to be part of the project as he cut the cake and was delighted that Singer's was getting the recognition that was deserved as such an important part of the heritage of the town.
This also marks the launch of Frome Town Council's Singer's Trail, a new walk written by Sue Bucklow in Singer's honour around the town – leaflets can now be picked up at Discover Frome Information Point.
Cllr Sheila Gore, herself responsible for the new Singer's exhibition at the museum which focuses on his life said: "It really is extraordinary to be able to see a singer's project of this magnitude coming together to the recognise important role that Singer played in the life of Frome and indeed in statuary all over the world."
Casting the world, the ongoing Rook Lane Arts Project, will see a series of activities, incorporating exhibitions, events and a publication throughout 2019. To volunteer or to find out more here.⠀