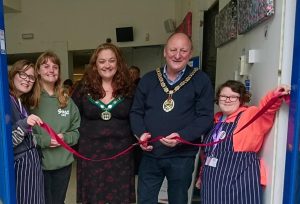 A pop-up shop which helps to give young people with special educational needs and/or disabilities work experience has launched in Frome.
The unique business venture known as 'Sense-ational' appeared in Taunton's High Street last year, Yeovil's Quadem Centre in April and has now opened its doors in Frome at 18 Bath Street until 13 July.
Mayor of Frome Mark Dorrington said, "I am delighted that this project has chosen to come to Frome. It is really important that we enable our young people to access valuable work experience opportunities and gain skills for life and this shop will do just that."
The shop is being run by local young people from Critchill School and the stock is created by pupils from special schools across the county. Products range from gifts, ornaments, jams and upcycled furniture, to beautiful limited-edition paintings, cards, sweets and plants, silk scarves, lavender products, candles, bird feeders printed aprons, bags and mugs.
Jane Haines, from Critchill School said, "A huge thank you to Mr Pang for allowing us to use the shop. It's great to be out in our community and to be able to showcase the employability of our young people and the skills they can bring to a work place. I'm so pleased with the quality of the products we have for sale from the schools and hope to see lots of people in the shop."
Finding work experience when you're close to leaving education is vital for any student and if you're a young person with Special Educational Needs and/or Disabilities it can be very difficult to access this kind of opportunity. This project which involve pupils from special schools across the county is aiming to fill that gap.
Frome Town Council helped find the premises in the town centre and agents Cooper and Tanner negotiated with the landlord Anthony Pang to provide the space for free.
To take a look at some of the items for sale drop by the shop which is open 10am – 2.30pm weekdays, 10am – 4pm Saturdays and will be open on 10am – 3pm on the Independent Market Sunday.
Published 14/06/2019