There was a spooktacular turnout for Frome's Litter Warriors latest meet.  The Halloween themed zombie litter pick brought together the young and old in the fight against rubbish on Frome's streets.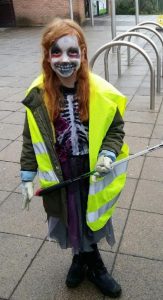 The Litter Warrior team met on Thursday 31st outside Tesco Express in Stonebridge; the most spookiest of costumes were worn and a face painting team were on hand to conjure up some further ghoulish looks.
The litter pick itself took the team through the Old Showfield and surrounding green spaces and they managed to pick up a staggering 6 full bin bags of rubbish. The items were then sorted into recycling or biodegradable items.
Deputy Mayor, Anita Collier said "It was such a great event, my grandchildren and I thoroughly enjoyed ourselves. It's wonderful to see our younger members of the community get involved with some fabulous costumes and face painting – it just goes to prove that picking up rubbish can be fun".
The Litter Warriors are keen to keep up the good work and their next scheduled meetings are:
Saturday 16th November, 10am  The Dippy – Meeting at the Co-op
Thursday 5th December, 2pm  Dyers Close lane (Trinity) Meeting by The Griffin
Saturday 21st December, 10am  Singers Knoll
If there is an area of Frome that you would like the Litter Warriors to add to their list, then please do get in touch with them via Frome Town Council on info@frometowncouncil.gov.uk
Published 31/10/19