We're very lucky to have our own wonderful radio station, Frome FM, and I was invited in for an interview on their 'All About Frome' programme.  I was asked about my involvement with Frome over the years, the Frome Twinning Association and my role as a councillor and Deputy Mayor. Frome FM is on 96.6FM; it's a non-profit community radio station and "All About Frome" takes a weekly look at the volunteering scene in Frome. You can listen to 'All About Frome' every Tuesday at 12pm, repeated at 6pm, Saturday at 1pm, and Monday at 11pm.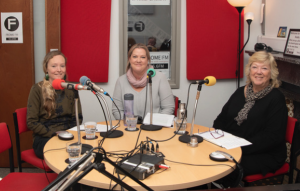 Alongside me on the show was Anna Francis, Resilience Manager at Frome Town Council, who talked about the new climate panels that are happening every Tuesday from the 12th November and how Frome can meet the targets set, following our declaration of a climate emergency.
We were also joined by Beccy Byrne, Marketing and Communications Officer at Frome Town Council, who spoke about Christmas in Frome; when the lights are being turned on, and all the fun and activities that will be going on around the town centre on 29th November. Plus, the Frome Big Christmas Get Together, a free community festive lunch for anyone who is on their own on Christmas Day.
On Tuesday evening I was invited to an evening with ADD (Action on Disability & Development). ADD was launched in Frome over 30 years ago and has now become an internationally renowned organisation that helps disabled children to secure a right to education in Africa. They have completed a successful programme in Tanzania and are now launching a campaign to do the same in Sudan. You can read about their work here: https://www.add.org.uk
All 17 Independent councillors met on Wednesday evening for one of our regular catch ups, making sure we're all working closely together. I love those meetings where we explore what can be done to improve our community. Everyone has their own opinions and the beauty of being independent is that there are no party politics – it's just about all of us wanting to do the best for Frome! If you'd like to contact your ward councillor with any suggestions, we're all ears, email info@frometowncouncil.gov.uk
On Thursday, there was a public meeting about homelessness, held in the Town Hall by Fair Housing for Frome. It was a great insight into what's being done to help those on the streets and those who are near to breaking point. Would you know what to do if you thought someone was sleeping rough? You could contact the Avon & Somerset Rough Sleeper Line on 0300 500 0914 or a Mendip Outreach Worker on Tel: 01749 677097. Or you could ask them to drop into Fair Frome (behind the Town Hall), who will give them advice on where to go and what to do.
I ended the week by fulfilling a promise to Rachel Clark, who is doing some amazing fundraising work for We Hear You counselling service by running a mile every day this year. Several people have joined Rachel in her daily mile, and recently she threw out the challenge for anyone who might not enjoy running to walk the mile while she runs it. I took up the challenge and joined her on day 300 of 365 walking around the old Cheese Show field. It was a big milestone for Rachel and one I enjoyed taking part in. Well done, Rachel!
Published 31/10/19