Following concerns expressed regarding the state of the property owned by Nott's Industries Pension & Assurance Scheme at Saxonvale,  Frome Town Council has received a statement from the Scheme trustees: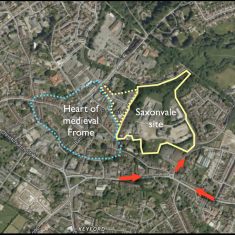 'The Scheme trustees are aware of concerns regarding the Property and are actively taking steps to implement site security and related appropriate measures imminently.
Additionally, a new professional pension trustee is to be appointed shortly following which the Property will be re-marketed with a view to an early resolution.  The Scheme trustees are in liaison with both Mendip District Council and Frome Town Council and will continue to keep them abreast of developments.'
In response to this statement, Cllr Toby Eliot, the Leader of Frome Town Council said: 'The Town Council is delighted to hear this news.  The site has been in a poor condition for some time and we have been working with our colleagues at Mendip District Council to secure action.  The news about the re-marketing of the site is equally encouraging.  We hope that this will be the catalyst now for the site to be comprehensively redeveloped in a way that the town can be proud of.  As always Frome Town Council will continue to work energetically with its local authority partners and other landowners to contribute to a successful regeneration.'
At the council meeting on the 24th January it was agreed that Peter Wheelhouse, Economic Development and Regeneration Manager and Deputy Town Clerk, would continue to liaise with Mendip District Council and other parties.
UPDATE: Following last night's discussion at Council regarding Saxonvale, Nott's Industries Pension Fund confirmed that contractors will be on site next week to start the clean up on land at Saxonvale.
Councillor Rich Ackroyd said "Great news that finally Saxonvale is getting a long overdue clean up.  Well done to the trustees for making this happen.  It's taken a long time but this is real progress and nothing less than the good people of Frome deserve.  The next step will be to see genuine plans for redevelopment on this unique site."
For further information please contact WheelhouseP@frometowncouncil.gov.uk
Published 24th January 2018
SaveSave