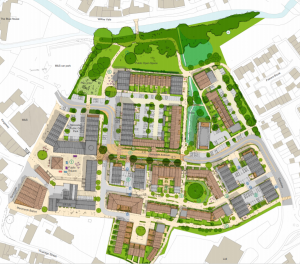 Saxonvale, the old industrial site in the centre of Frome, is being developed by Acorn on behalf of Mendip District Council.  The regeneration of the dormant land in the heart of Frome will be central to town and at the start of the year revisions to the original plans were provided by Acorn and in February Frome Town Council submitted a formal response to the outline planning application.The new plans have now been amended and include
Amendments to Garsdale Avenue (main route through) Central median strip added to slow traffic and the bends have been widened to enable large vehicles to safely navigate the bends.
Travel plans updated to address Somerset County Council comments
Vehicle access off of Vicarage Street to serve 6 car parking spaces is removed and will be pedestrian and cycle access only.
The Masterplan has been amended to reflect the above, including revised parking layouts
Building heights amended, the height of the buildings where the abattoir currently is has been reduced to two storeys and the buildings along the frontage ofSaxonvale Road will remain at 3 storey but will now have an under croft for parking.
Site sections have been amended to reflect the above change in building heights
The disposition of uses plan has been amended to include "flexible uses" on the ground floor of some buildings. This will enable the property owners to decide how they want to use the ground floor, either as residential, retail, office etc.
Some plans amended to include a red boundary line for clarification purposes.
The amendments will be considered at the next Frome Town Council Planning committee meeting on 16th July to the consultation response deadline.
You can view the amended plans here https://publicaccess.mendip.gov.uk/online-applications/applicationDetails.do?activeTab=documents&keyVal=PRJGWJKP05P00
The amended plans are those dated 11 June in the date published column.To register for the meeting from Friday 10th July please go to https://www.frometowncouncil.gov.uk/meeting/planning-advisory-group-74/
Published 6th July 2020