SHARE's Repair Café is back this month!  On Sunday 15th March at the Welsh Mill Hub from 3 – 5pm there will be another opportunity to gather up any items that need repairing or could just use a little love and bring them back to being as good as new.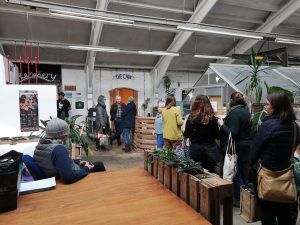 The Repair Café is a collaborative event by SHARE with support from Edventure: Frome, Tech Shed  and Remakery and the ethos is simple: repairing all kinds of items is helpful in so many ways – not only does it save the cost of buying a new item but it's also an important way for individuals to take action against the climate crisis by keeping items out of landfill and, in a small way, reducing the demand of new items to be produced.
Last month at the repair café, many items were either repaired, e.g. a coffee machine, a set of fairy lights, radios and pairs of jeans or they were upcycled; old fabric was made into a bag and a draught excluder! So, in total, a massive £1705 was saved if these broken items had been replaced with new ones.
During the session on the 15th March, SHARE's team of volunteers will be sharing their skills by mending items which will include clothing and textiles, bikes, tools, household electricals, small furniture and toys.  There will also be upcycling activities and demos – have you ever wondered what you can do with an old pair of jeans?   The event is free to attend and you can book a spot via https://share-repair-cafe-march.eventbrite.co.uk
Published 05/03/2020