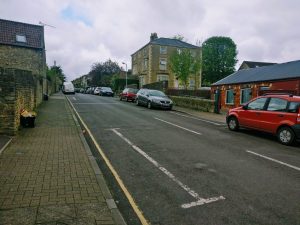 Following concerns raised about traffic, parking and highway safety in Weymouth Road, residents from there, along with Somerset Road, Nunney Road, Park Road and Queens Road were invited to a meeting on 16th April at the Town Hall.
The meeting was organised by County Cllr for the area John Clarke and facilitated by Frome Town Councillor Peter Macfadyen.  Steve Deakin, Parking Services Manager at Somerset County Council was at the meeting to explain the pros and cons of residents parking schemes and the process of implementing any scheme. The County Council is responsible for traffic control and on street parking. This was not a formal consultation, just a meeting to outline the options available to residents, the processes involved and to get a clearer understating of what the problems are.
The meeting highlighted the need to carefully identify what the key concerns and issues are, alongside looking at possible answers.  Steve Deakin was clear that residents parking schemes where permits are introduced is only one option and, in some cases, not the best option. However, the aim of the process is to establish what the best solution will be for the majority of residents.  In some cases this could be to do nothing.
Before the concerns are identified and any options formally considered by the County Council 60% of households in one street would need to agree that something needs to be done.  If this happens, the impact on all neighbouring streets would also be taken into account as changes in one street will impact on others close by.
It seems likely that at least one of the streets invited to this meeting will request a formal survey to identify concerns and look into whether changes can be made.
The meeting with residents has highlighted the need to provide clear information to all residents in the town on how parking and traffic management schemes can be requested.
How to request a residents parking scheme
Once you have decided that there is an issue and would like to look at the option of a residents' parking scheme or other forms of traffic management, you will need to gather the support of other households in your street.
You will require 60% of the households in your street to complete a petition form to get the process started. In some areas the problems may not apply to the whole street so you should clearly identify the area that is affected so that you can demonstrate 60% support. (For example, the section of Weymouth road adjoining the Park and toward Badcox only).
There is a standard petition form on the Somerset County Council website here which groups can use.
Alternatively, request that Somerset County Council investigate what options are available to improve parking, traffic management and highway safety by emailing Steve Deakin . Although it is not required at this stage, emails can include a brief description of key concerns which would help Steve to start formulating his investigation.
For more details on parking schemes, visit Somerset County Council's website here