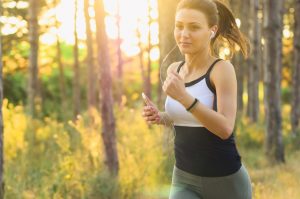 Frome Town Council are partnering with DEKA Running to launch a series of courses to happen in Frome this summer.
A new series of running courses will begin in the first week of May. Four different courses are being launched, with something to hopefully tempt those new to running and more experienced runners alike.
Laura Francis from DEKA Running explained, 'We've successfully held Couch to 5k courses in the past. We've now got more qualified Run Leaders, which means we can offer people in Frome more opportunities to get out running as part of a group!"
Couch to 5km is a way of starting or getting back into running. The courses last 10 weeks, gently progressing each week, meaning by the end of the course people will be able to comfortably run for 30 minutes. Sessions include learning how to warm up, cool down and stretch properly and Run Leaders will be sharing plenty of tips on technique and how to avoid injury.
Laura said, "There's support from everyone around you and it isn't such a struggle to keep going. The groups are suitable for people who have never run before or those looking to get back into running and people don't need specialist kit to take part."
Anyone joining one of the groups needs to be able to commit to being active 3 times a week for around 30 minutes each session. One of these sessions will be a group session, the other two will be 'homework'. There are two new courses to choose from – Get Running (Tuesdays, 6pm starts 1st May) and Couch to 5k (Wednesdays, 9.30am starts 2nd May.)
Owen Singer, who has previously completed the Couch to 5km course, said, "The sessions were just what I needed to motivate me to get running. There's nothing to fear – it's a steady introduction to running and everyone in the group supports each other and the support continues after the 10 week sessions end, which is brilliant. If you want to do the Frome 5km or simply want to improve your fitness I'd definitely recommend a DEKA running course as the way to do it!"
For those who can already run 5k, a new course, 'Keep On Running', starts on the 3rd May.
Councillor Rich Ackroyd from Frome Town Council said "We're really happy to be encouraging more people to be physically active as it has so many benefits – both in terms of physical and mental health. Doing something like this as part of a group is a great way to create new habits and make new friends – and run leaders really help to everyone motivated."
DEKA Running is also hosting an 'Get into Trail Running' course, which will last 4 weeks and will be for people who are already able to run comfortably for 30 minutes. These sessions start on 6th May, at 3pm.
To find out more about joining any of these courses call in to DEKA at 6 Kingsway, Frome or phone 01373 464889 or go to www.frometowncouncil.gov.uk/get-running . Cost for the beginners £40 for a ten week course.  Absolute beginners welcome.