Alexandra Road last month hosted Frome's first ever Play Street. A Play Street is a short, regular road closure that enables children and adults to play freely on the street without traffic.
Hannah Stopford, Frome Town Council's Community Development Project Officer has worked with Somerset County Council to make the process for putting on a Play Street free and easy and is encouraging other streets in Frome to join in.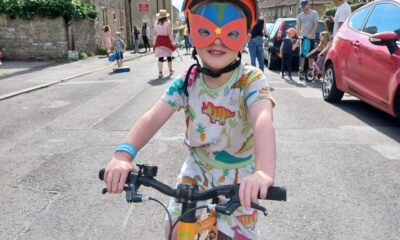 Hannah said: "Play streets are so simple! They're not just for kids. They are short, regular road closures, stewarded by residents, to give streets an opportunity to enjoy some freedom from traffic. It's a wonderful chance to connect with neighbours over a cuppa and watch children (and adults!) charging up and down the street with scooters, chalking games in the road or bringing their toys out to share. Every street does it in a way that suits them – monthly, Sunday mornings, fortnightly Fridays after school – whatever works for whoever lives there. More and more, we are realising how important it is to have good connections in our local neighbourhoods – so that we can ask for help if we need it, share ideas, borrow and lend things, have fun together or just feel good when we say hello to each other."
If you're interested in having a Play Street where you live, The Neighbourhood Network are hosting a Toolkit session on Thursday 11th November 10am – 12pm (children welcome) at the Town Hall. Playing Out, a Bristol based organisation that promotes play streets will be there, along with Frome residents who have been running sessions this autumn, to share information and answer any questions. Sign up the session here.
Find out more by visiting the Neighbourhood Network page . You can also contact Hannah Stopford at FTC in the meantime with any questions by emailing hstopford@frometowncouncil.gov.uk.