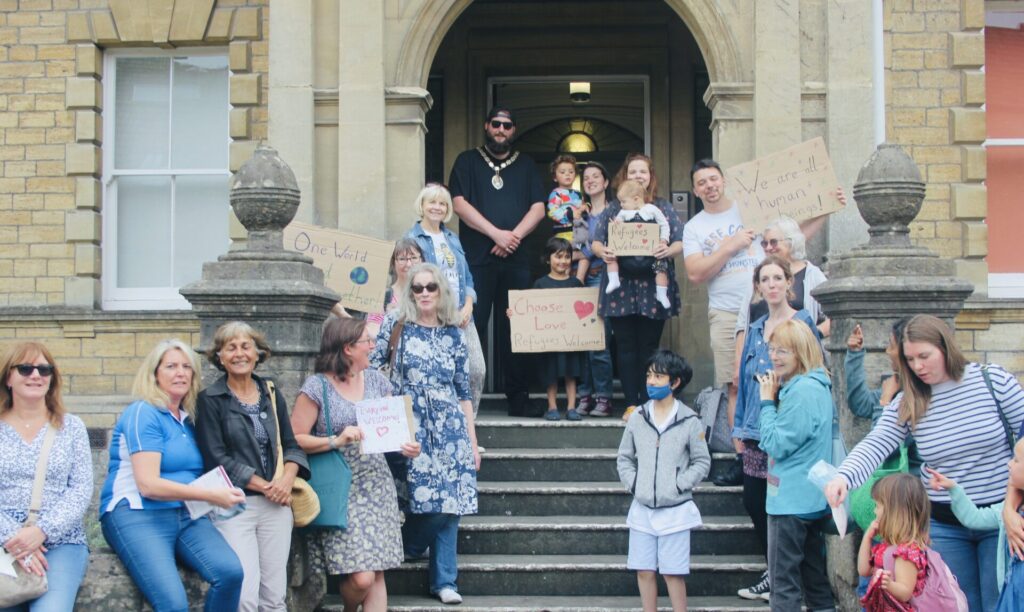 A group of Frome residents took to the streets with a family-friendly demonstration to spread the message that refugees are welcome in our town.
The demonstration was to highlight the tragic situation taking place in Afghanistan, to offer a show of solidarity for all those affected and as a call to the Government to provide safe and appropriate care for all refugees.
The organiser of the event, Harriet Wyatt said, "I believe it's important to show that we stand with those fleeing persecution and terrors we cannot even begin to imagine. The only difference between my family and those desperate parents handing their babies over barbed wire is luck in where we were born. We must stand together."
Frome Town Council (FTC) stepped in to open their doors to the demonstrators and hear their concerns. As a town council, FTC hold no housing stock of their own, but want to help facilitate the important conversations around what can be done for refugees, as well as the many local people facing ongoing housing issues.
Mayor of Frome, Cllr Andy Wrintmore said, "The housing crisis is very real, for both those currently risking their lives to escape Afghanistan and also those in our own neighbourhoods. We felt it was very important to encourage this dialogue and see what can be done to support for those in need – supporting one does not take away from the other."
Refugee Action In Somerset East (RAISE) also attended the event. The local charity is a great way to offer your support for refugees whether by volunteering as a fundraiser, donating items of clothing or if using your hands is your thing, they are always happy to accept knitted hats, blankets or teddies. Get involved by going to www.raise.today
Somerset County Council have a refugee resettlement team who are providing assistance for refugees from Afghanistan. Currently the need is for private landlords to offer self-contained accommodation for rental (for at least a year or two), preferably near town centres. All types of property from one bedroom flats to multiple bedroom houses are needed. If you, or someone you know, can help with this, please contact resettlement@somerset.gov.uk.
Fair Housing for Frome exists to support the provision of decent, secure, affordable, and accessible accommodation in Frome for local people on low incomes. If you are in need of support, find out more at www.fairhousingforfrome.org.uk.