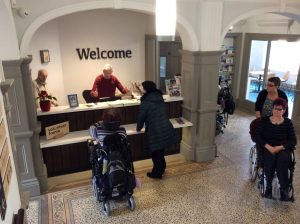 We recently had the pleasure of hosting the PACE group here at the Frome Town Hall. PACE are a support group for people with disabilities and in need of social and creative stimulation. PACE meet weekly at the Gorehedge Communal Room. As many in the group are wheelchair users, part of their activities include testing accessibility in Frome, so we invited them to explore the Town Hall. Their feedback will be incredibly valuable for us and help us in our continuing improvements. The Town Hall is a community space so it's important that it works for everyone.
Carol Harper, co-ordinator or the PACE group said "All the PACE members had a very interesting and productive day at the Town Hall completing the accessibility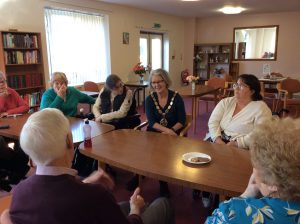 review, which had a very positive outcome. A big thank you to Frome Town Hall staff, for giving us the opportunity of visiting and making us very welcome"
Following their visit, Mayor Sheila Gore attended one of their meetings. There was much conversation about what it's like to live in Frome as a wheelchair user, what it's like to be the Mayor, and how the group works to provide ongoing support for it's users. Member Shirley Mason said "our group is lively and positive and offers social support  – we enjoy lots of activities including boccia and curling as well as lots of fun quizzes and games, which provoke lots of laughter. We all have a fun day out with friends four or five times a year, and get to meet interesting speakers like the Mayor. Arts and crafts give us all a sense of Personal creative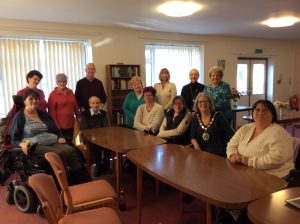 achievements."
PACE is holding a fundraising tabletop sale and coffee morning on 8 February in the Gorhedge Communal Room, 10.30 – 12.30. Women's nearly new clothing and accessories, new hand knitted hats and gloves, bric-a-brac, refreshments and a raffle. It's free to attend and everyone is welcome, just come along for a browse, meet the group and perhaps grab a bargain. All proceeds are in aid of PACE group Members' amenities fund.
Keep an eye out for the results from the accessibility review, which we'll be sharing soon.