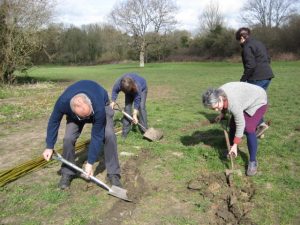 Glorious spring sunshine brought out scores of Frome residents on Saturday to help construct a living willow tunnel in Rodden Meadow.  Julia Percy from the Carymoor Environmental Centre arrived early to mark out the trenches and the first batch of volunteers set to work digging out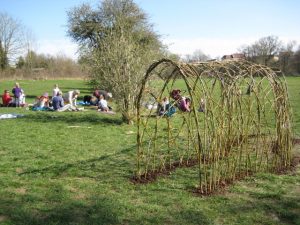 the turf from two trenches – this work fell largely to a team of enthusiastic Town Councillors! Green willow was then planted deep into the soil to encourage it to root well this year. We should see some sprouting and greenery by this year and, by next year, it will hopefully be growing into a real living tunnel. To strengthen the structure for its first year, people dropping by during the day were encouraged to add extra withies to the criss-cross of the lattice and others added decorative windows and portholes.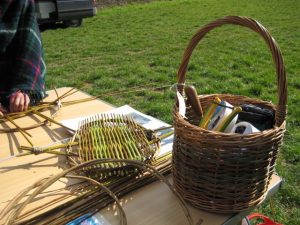 Mary Cross of Organic Matters Willow Classes and Maria Biggins were demonstrating to families how to make willow platters and other keepsakes so lots of people went home with a useful item they had made themselves. Spare green willow was planted around the section of Rodden Meadow where the Town Council most want to encourage wildlife.
A few visitors really got the bug for basket weaving so will be interested to know that Mary Cross runs regular workshops at the walled garden in Mells and has spaces on a weekly Tuesday class bookable via Frome Community Education. See www.organic-matters.co.uk or www.fromecommed.org.uk for more details.