Frome Town Council's Resilience Manager, Anna Francis, attended the national community fridge network event in Oxford yesterday.
The event was organised to sh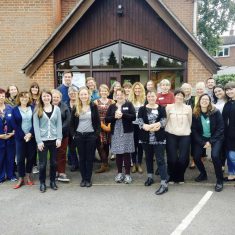 are ideas, best practice on what works and what doesn't in setting up, managing and securing funding for fridges. There were some excellent ideas such as linking with 'Good Gym' www.goodgym.org/  to encourage people to go for a run, pick up surplus and put it in the fridge as part of an exercise regime.
Frome was the first place in the UK to set up a community fridge, it featured on Jamie Oliver's Friday Night Food Feast and has inspired similar projects to set up around the country. The fridge is a simple solution to food waste. A team of volunteers picks up left over food from local food businesses and the fridge, by the library in the colourful Loop de Loop building, is open from 8am to 8pm every day for people to help themselves to.
Frome's fridge is diverting 6000 items a month from landfill. The project was set up by Edventure with funding and support from Frome Town Council. The national network is now exploring opportunities to secure joint funding and support and is run by charity Hubbub who are looking to support a network of fridges around the country: https://www.hubbub.org.uk/Event/community-fridge-network there's a map of them there too