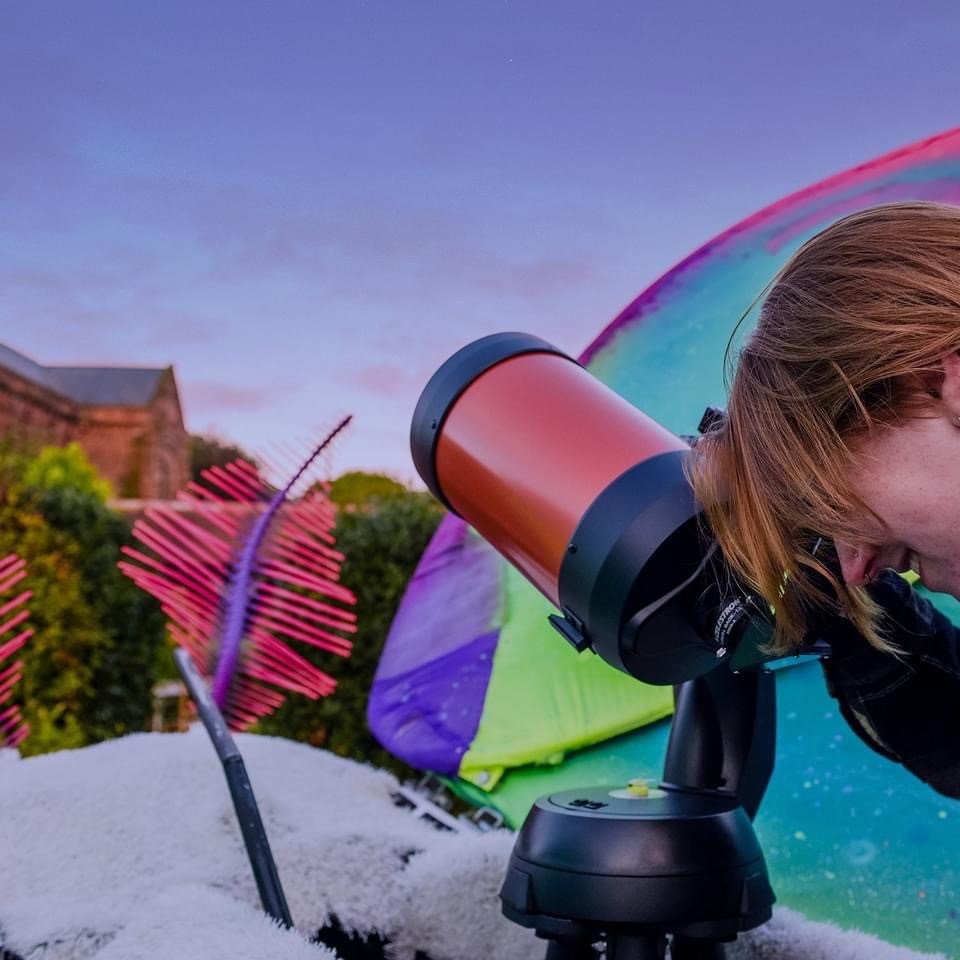 A giant, glow-in-the-dark moth will flutter into Frome on Tuesday 28th November to shine a light on all the great community-led initiatives and action happening as part of the Green & Healthy Frome partnership between Edventure, Frome Medical Practice and Frome Town Council.
Luna the moon-gazing moth will be at Victoria Park Cafe, Frome on Tuesday 28th November 2023 from 5pm to 7pm, and you are welcome to join her. Luna is a lovingly built five-metre sculpture of a 'Luna moth' mounted to an electric cargo bike, with a powerful telescope mounted to her frame. She's touring the country to promote the work of community projects funded through The National Lottery Community Fund's Climate Action Fund, which supports local groups across the UK taking action to tackle climate change.
Luna moths use the moon for navigation, and passers-by will be able to gaze into Luna's onboard telescope for an awe-inspiring glimpse of the moon's surface. By celebrating this beautiful moth and the moon that gives it its name, we hope to inspire and encourage people to get involved with protecting our local environment here in Frome by becoming more active in our local environmental projects.
The event is a free to attend and everyone is welcome. Whilst Luna is visiting us there will be hot drinks and snacks available to buy at the Cafe, moon-related fun and entertainment from fire spinning to glow-in-the-dark face painting and much more. This event is suitable for children and adults alike. Victoria Park is accessible and step free. We would encourage walking where at all possible but if you have access issues there is a limited amount of on-street parking on Weymouth Road.
Charlotte Carson, Green Connector for Green and Healthy Frome says "Green & Healthy Frome's mission is to achieve a health and climate win-win. How? By asking "what can we do to improve wellbeing in our town, whilst also improving the health of the planet?" This community-led initiative is based on the idea that people's health and the health of the planet are intertwined – if we improve one, we'll also improve the other. We are working together to ensure there are many ways to live greener and healthier lives in our town.

We're continually developing and delivering a catalogue of community-led initiatives that boost our health and have a positive impact on the climate, sharing the story at the heart of our programme and capturing all that we learn as we go."
Visit Luna the Moth at Frome's Victoria Park café between 5pm and 7pm on Tuesday 28th November