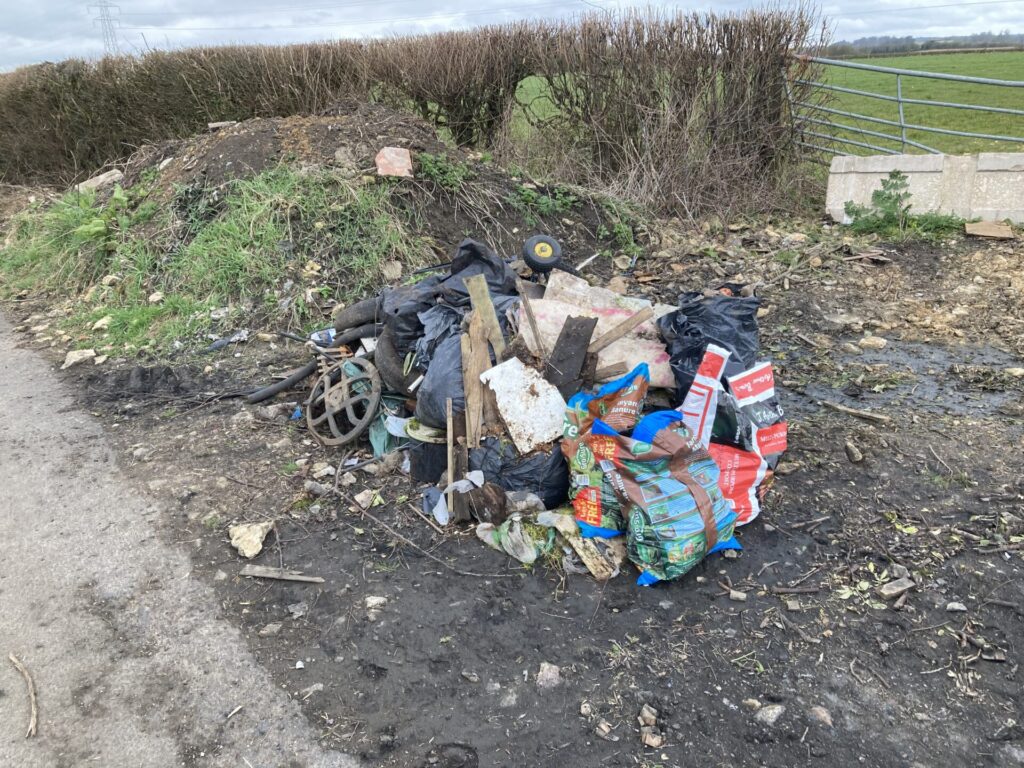 Mendip District Council has voted to ban vehicles from a fly-tipping hotspot near Frome.
At a meeting of Full Council last night, Monday 27th September, members agreed Berkley Lane and Dark Lane should be pedestrianised to prevent ongoing environmental crime in the area.
It follows a recent consultation of local landowners, businesses and residents who overwhelmingly backed the idea of road closures to curb the fly-tipping menace.
And while the Council was in session, a live operation was taking place at the Frome site involving Mendip enforcement officers working with local police.
A number of vans were stopped during the operation to see if they were carrying waste and to check the owners held valid waste carrier licenses with the Environment Agency.
Rubbish dumped at the Frome hotspot accounts for 12% of all fly-tipping incidents on public land in Mendip. Costs to clear the waste amount to more than £50,000 each year.
Cllr Heather Shearer, Portfolio Holder for Community Health and Service at Mendip, said: "These are not insignificant sums. Enforcement is something the Council must and will do, but it's expensive in terms of costs and staff resource.  
"It's time to take a new approach. Prevention is better than cure, and pedestrianisation seems to be a sensible solution in addition to all the other tactics deployed in this area."
Cllr Shearer added: "It's not without risk, and it's not without some disbenefit to some in that area, but the majority of people in the community have spoken – and they want pedestrianisation to go ahead.
"We thank local people for their patience and support in tackling environmental crime within the parish in what has been the District's biggest fly-tipping hotspot for decades."
Following the vote by Members to approve the recommendation, Cllr Shearer, added: "This is just the first step in the process, it's by no means a done deal, but we just wanted to support the application by the Council, as Local Planning Authority, to the Department of Transport, and get this moving onto the next stage.
"The Secretary of State will consider the application on all of its merits. They will take it very seriously and will undertake a formal consultation process where people's concerns will be raised, heard and considered again."
Cllr Shearer concluded: "Fly-tippers don't care about the environment or our communities. But residents do, and so does your Council. That's why working together is the smartest way possible to tackle the problem."
Fly tipping is an environmental crime and the Council will look to take enforcement action wherever possible. If you spot a fly-tipping incident, please report it to us as soon as possible.
You can call the Mendip District Council customer service team on 0300 303 8588 or visit their website.