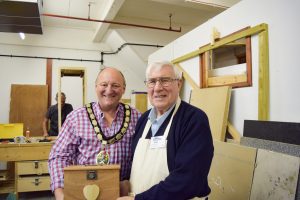 This week I was delighted to accept an invitation to visit the Frome Men's Shed, based at the Welshmill Hub. It has been five years since the Shed started in Frome and membership has grown to about 100 members.
The Shed gives an opportunity to people who might otherwise be lonely to work together on projects for the benefit of themselves and the community. Significant improvements in the members' mental health and general well-being have been reported through fellowship and shared working. They meet Thursdays between 9am-1pm.
As a member of the Trinity Community Group I am grateful to them for making the planters that now sit outside the Bridge Café in Selwood Road. Other examples are bird and bat boxes for the Children's Festival and scooter racks for schools taking part in Frome Town Council's annual Schools Travel Challenge.
Frome also has a Women's Shed with similar aims that has already gained a membership of about 90 people. They meet at Welshmill on Mondays between 9am-1pm and I am looking forward to visiting them in the near future. Both sheds welcome anyone who feels they would benefit.
There is also Tech Shed (techshedfrome.org) for those with technical and digital interests and the Make: Shed (edventurefrome.org/courses/shed/) for young people, so there really is something for everyone.
If you, or someone you think would benefit, would like to find out more about these wonderful initiatives, visit them during their opening hours and I know you will be made very welcome. More information is available at www.fromeshed.org.uk