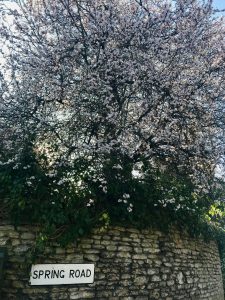 "When you get a groove going, time flies" – Donald Fagan
It's hard to believe, but as we spring into April the birds are singing, the clocks are changing and my time as Mayor is almost finished. I will officially hand over the role on May 15th at the first council meeting after the local elections on May 2nd.
Before then I still have lots to do – here's a small taster of my week ahead.
I'm looking forward to being a judge for the Black Swan Arts Young Open 2019. This is an annual competition for creatives between the ages of 8 and 19 and a brilliant opportunity to experience entering an art competition. Look out for the preview and exhibition, which runs from 30th March. If previous years are anything to go by, we are all in for another treat.
On March 31st I will be introducing Frome Voices and a full orchestra with soloists when they perform Karl Jenkins' Stabat Mater and other British choral works. I recommend an early booking.
Frome Town Council's second Apprentice Conference takes place on the 3rd of April. Exploring the real value of apprenticeships it's a chance for employers to meet up with training providers and advisors to talk through the steps involved. You can book a free place here: http://www.tickettailor.com/events/frometowncouncil/236667
Other highlights for me will be various cheque presentations to the People's Budget winners; speaking at a Selwood Rotary event and attending Frome's Missing Links AGM.
Finally, you can hear all about my year so far at the Annual Town Meeting on April 3rd, when I will also be revealing who is getting the Mayor's Civic Awards for 2019.
A busy week then, but as Robin Williams once said, "spring is nature's way of saying, let's party!" I intend to do just that.