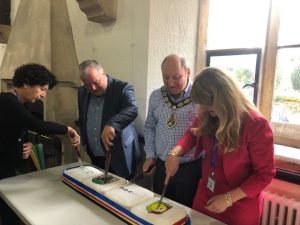 This week's Autumn Equinox heralded a change to more familiar seasonal weather but not before a brief Indian summer that helped make three recent Frome events the best in some years.
Firstly, the Cheese Show was a great success and said by many to be the most enjoyable since the move to the 'new' showground at West Woodlands. They even managed to arrange a fly-past of balloons from Longleat's Balloon Festival!
Last weekend it was Frome's turn to host a visit of mayors and their parties from our twin towns in France, Germany and Poland. A full weekend of events included speeches in the Memorial Hall (my biggest venue yet!) and planting a tree in Victoria Park to signify the tenth anniversary of Rabka-Zdroj joining the Quadripartite. This was my first significant involvement with twinning and witnessing the sheer pleasure of people from different countries enjoying each other's company without any political dimension was so refreshing.
One event our visitors said they really enjoyed was our fabulous Frome Carnival. I think it was the best in years, and the committee's policy of assisting the larger floats to attend really paid off. This does not come cheap and fund raising continues all year. Entries by individuals and groups were also of a really high quality and if the weight of the buckets of coins I collected is anything to go by, there was a significant increase in funds raised for deserving causes in Frome. Thanks to everyone who came and contributed, and to all the volunteers; it really is appreciated.