As I reflect on my time as Deputy Mayor last year, and my six months so far as Mayor of Frome this year, it makes me realise how little I understood about the workings of the council and how it operates. So, I'd like to tell you a little bit about what I've learned.
Frome Town Council is only responsible for two things: holding an AGM and providing and managing allotments! Under the circumstances it never fails to amaze me how much Frome undertakes by working with local groups, providing expertise on galvanising people to come together, and using their never-ending creativity to come up with new ideas. We're exceedingly lucky to have an amazing staff at the Town Hall, who are committed and passionate about everything they do. We, as a team of seventeen locally elected independent Councillors, decide on a workplan each year about what we'd like to see delivered and work with the staff to make sure it comes to fruition. As you can imagine this year has thrown all that up into the air. Many of the staff have had to be reassigned to handle emergency work helping to provide food parcels, prescription deliveries and managing phones to offer advice. Several of them were deployed to areas they had never tackled before and have risen to the challenge with gusto, helping to create neighbourhood groups and making sure everyone has been kept informed about where to go for help. Recovery panels were set up, hosted by the Council, to invite suggestions from people as to what they would like to see in the future and ideas about how we can all manage during Covid-19. A large survey was undertaken, and many people had the chance to put their suggestions forward, many of which have now helped to form our new plans for the year. As a consequence, some of the work that was originally planned has had to be put on hold, and many new ideas will be taking their place. None of this has had any impact on our determination to ensure that we continue to work hard to achieve our target of being carbon-neutral by 2030 – that's only ten years away and there's still a lot to do. We're also mindful of the fact that lockdown has had a detrimental effect on our local businesses so we're doing all we can to support them by offering information webinars, helping them to access information about apprenticeships, and supporting initiatives like shop local and fiver fest!
The seventeen independent Councillors have strong views on what they want to see for the town, and it's fair to say we're not always in agreement, but that's healthy! We often have heated debates, but that's the beauty of us not having to tow the party line – we're free to all do our best for the town regardless of party politics. During the coming weeks, I'd like to introduce you to each of the Councillors so that you can get a better idea of their passions and interests and get to know them as people. This week, I'll start by introducing you to Cllr. Nick Dove.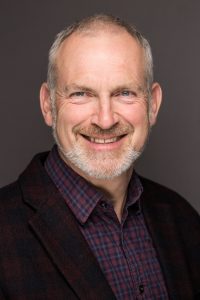 Nick is a former Head of UK Metropolitan Police Intelligence Bureau and Head of the Organised Crime Investigation Unit in Kosovo. He's now one of two Frome Town Councillors responsible for Market Ward. This ward mainly covers the town centre and surrounding streets. Here's what Nick says, "I am really proud to be a Market Ward Councillor as it allows me to spend time meeting, talking and most importantly listening to many of the people who make Frome so special, the local independent traders. I've travelled extensively for work and pleasure, so I really appreciate what we have in Frome; a broad collection of extraordinary businesses providing a hugely popular and unique destination for locals and visitors alike. We need to support and nurture these businesses and work hard to maintain and enhance the beautiful town centre so that people continue to visit Frome. If everyone makes a conscious effort to spend just £5 a week in one of our local independent shops, cafes, bars or restaurants then we can not only survive this challenging time but come out the other side stronger, and ready to welcome back visitors to Frome."
As you can tell, Nick is passionate about local business as well as many other aspects of Council life. If you'd like to contact him about anything going on in Market Ward, please email ndove@frometowncouncil.gov.uk
I hope you have a lovely week.  Keep safe and take care.