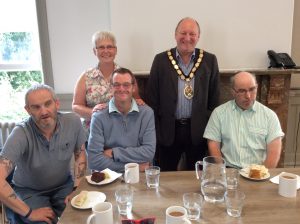 This week I was delighted to attend Frome Town Council's annual 'Voluntea'. We put on this event every year to celebrate National Volunteers' Week and  to show our appreciation of the many different organisations in the area whose volunteers make such a positive difference.
A recent estimate suggests that there are up to 120 different public and volunteer organisations in Frome providing services to our residents. Many are for fun, including sports and arts, but some are helping to fill the gaps in services once provided by local or national authorities. Some were founded relatively recently but many have been around for years, raising money and helping people. For example this week I was very pleased to attend events with the Lions, Rotary and Carnival clubs, whose funds are raised and spent locally, helping those in need in our area.
On the sporting front I was honoured to present awards at Frome Collegians football club. Founded in 1975, the club is a great example of parents and other adults not only dedicated to achieving sporting success but also encouraging young people to help themselves and others.
During my year as mayor I intend to support as many local organisations as possible. Volunteering has enriched my life by enabling me to meet many interesting people, so if you have some free time I would encourage you to think about helping in Frome's voluntary sector; whilst helping others I know you will find it very rewarding.