Earlier this week, I took great pleasure in presenting Arthur Mitchard with his prize for designing the Mayor's Christmas card! Arthur was delighted with his gift and even more delighted that his card will be sent to more than 500 people on the Mayor's Christmas card list! The theme for the card was 'Frome's green spaces', which you probably all know by now is a passion of mine! The team on the Council staff responsible for looking after all our wonderful parks and green spaces are the Town Rangers under the guidance of Chris Stringer, FTC's Environment Manager. Chris and his team do so much from pruning all our lovely trees and hedgerows, planting and watering our seasonal flowers, clearing and cleaning all our communal areas, cutting the grass, looking after play equipment in our parks, conducting health and safety checks, making benches, railings, sharing boxes and steps around our wooded areas too. Not surprisingly, they are constantly busy, out in all weathers and do so much to keep our town looking clean, tidy and well cared for. I take my hat off to this amazingly enthusiastic and hardworking team for doing such a great job!
I went to a couple of openings last week and I thoroughly enjoyed both. Firstly, I was invited to open the new antiques shop at the old Sun Street Chapel off Whittox Lane. It's quirky and fun, so do visit if you can. Secondly, I was really happy to support the opening of the fundraising pop up shop at The Black Swan. The Black Swan is fascinating – this week they told me they're planning on creating more of a community space that will appeal to more people, with plans to hold creative workshops and working with other groups around the town. There's also a great café, and a host of creative artists selling their wares alongside it. Pop down and have a look if you get the chance, and while you're there you might want to visit the Discover Frome info point which has re-opened and is open from 11-3pm, Wed-Sun. Discover Frome has a multitude of things to offer residents and visitors alike, with maps, information on what's on around town, postcards, gifts, and much more. Why not take a look when you're next in the area?
Lots of Frome traders gathered last week for a photo (in a socially distanced way) to show how excited they were to be back at their shops, the image was co-ordinated by Charles Prior from Baxter on Cork Street. The traders wanted to remind shoppers to come into town for their festive gifts. And to make up time, many are opening for more hours and are opening on Sundays for shopping in the run up to Christmas. Our shopkeepers are relying on us more than ever this year to support them and I hope we can all keep shopping locally to keep our shops afloat! There are some wonderful and often unique Christmas gifts to be found in the town, so come on, let's get Christmas wrapped up in Frome!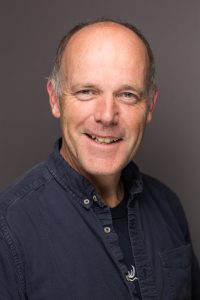 As you know I'm gradually introducing you to all the FTC Councillors who work for you, and this week it's the turn of Richard Ackroyd, one of three Councillors looking after Keyford Ward.
Here's what Rich has to say, "Most people probably know me as a former Mayor of Frome, but my adult career began in engineering as an apprentice draughtsman and I chose teaching as a second career path. As a Head of Department, I taught Business and Economics to lovely teenagers for many years in Wiltshire, cementing a long and positive relationship with this part of the country.
My current roles include being a trustee of Friends of the River Frome, Frome's Missing Links and the Cheese and Grain. I'm a founder member of the Frome Ukulele Club and am a Sustrans Volunteer Ranger. I sometimes perform with SATCO, but mostly we don't talk about that!
Being a Town Councillor has been rewarding and frustrating. The rewards are many (but non-financial) and I try hard to make the town a better place – I've certainly met a lot of brilliant people."
Rich is a man of many talents and a very upbeat nature! If you'd like to contact Richard, you can do so by emailing rackroyd@frometowncouncil.gov.uk.
It's wonderful to see lots of houses already decorated with their Christmas lights, and I imagine we'll be seeing more over the next couple of weeks. I hope you're all getting organised as we enter the second week of December, there always feels like so much still needs to be done as we approach the festive season, but whatever you're planning this week I hope it's a good one for you. Please take care of yourselves, look out for your neighbours, and stay safe.