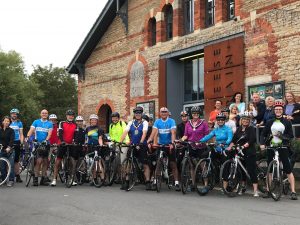 Frome's Missing Links and local residents joined the Mayor of Frome at the Cheese and Grain as he set off on day seven of his 1,270 mile journey to John O'Groats by bike.
Mayor Richard Ackroyd is taking the longer way from Lands End to John O'Groats to highlight the need to connect Frome with the Colliers Way path for a traffic-free route into the centre of town. He has raised nearly half of his £2,000 target to support local charity Frome's Missing Links to do just that.
Set up in 2010 Frome's Missing Links goal is to develop traffic-free routes suitable for all ages and abilities in and around Frome, starting with campaigning and raising funds to link up the Colliers Way Path. This is important for Frome as it will help to create a safer cycling route to join the town to other neighbouring towns and villages.
Frome Town Council are encouraging anyone who is feeling motivated by the Mayor's challenge to get involved with Love to Ride, a fun, free competition run throughout Cycle September.
Councillor Gary Collinson said, "Choosing to cycle rather than drive can reduce stress and increase energy and productivity at work. It's also a good if you are looking to increase your daily physical activity. We hope people will be inspired to get riding whatever their age or ability."
The competition gives workplaces and individuals riding their bikes in September a chance to win exciting prizes including holidays, bikes, equipment, vouchers and more. It's completely free to sign up and everyone is invited to join in whether you are a cycling pro or a complete novice. To enter the draw or find out more go to lovetoride.net/frome or email parkere@frometowncouncil.gov.uk.
To make a donation to the support the Mayor's challenge visit www.justgiving.com/fundraising/richard-ackroyd4