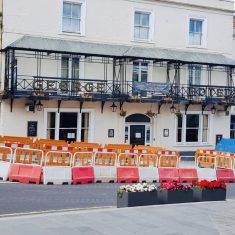 Following a site meeting with Somerset County Council Highways, and our contractor, Griffiths it is clear that the Market Place will not be re-opening on 25 September as previously anticipated.  Our contractor is working towards a re-opening date of 2 October.
The further delay is because the Highway's authority who have overall responsibility for the road are requesting some additional work to the drainage and gully connections,  and an additional area that needs to be resurfaced.   This will need to be prepared before the tarmacking can begin, and will result in a further extension of the road closure expected to be an additional week.  The project is still likely to be completed within the original 16 weeks contract period which ends on 12thOctober.
Cllr Nick Dove said: "While this is disappointing, we are pleased that the correct level of attention to detail is being paid in completing these works. The project is still on course to finish within the planned 16 weeks, meaning we won't have to enforce any penalties that we have in place; these were built into the contract as is expected on these large jobs.  We realise this may be disappointing to some who are keen for the road to re-open, and we understand and appreciate this. We also know some residents who will be pleased as they have enjoyed a pedestrianised town centre, even though it's short term! The team at FTC are in constant contact with the contractors, and of course before the road opens we are subject to Highways sign off, which in this case has produced an unscheduled delay. Getting it right is better than rushing so that we can have a scheme to be proud of for many years to come "
Any updates further will be posted on this website.