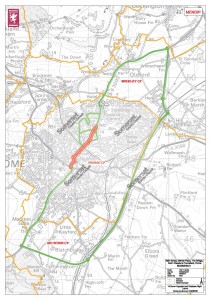 Resurfacing and patching works are scheduled for Bath Street, Market Place, The Bridge, North Parade and Fromefield.
These were due to take place this week however we have been advised that they have been postponed until Tuesday (9th), Wednesday (10th) and Thursday (11th) next week. The areas highlighted in red on the map will be closed between 6.30pm and 11.30pm on these dates. Diversions are highlighted in green.
For more informarion about the works contact Ron Chapman on 0845 345 9155 or for information about alternative routes contact Somerset County Council on 0845 345 9155.