It was a busy Council meeting last night and very well attended, thanks to everyone who came along to Rook Lane Chapel.
The highlight was hearing from Steve Macarthur, the general manager of the Cheese and Grain, that the Heritage Lottery Fund had confirmed a grant of £300k towards the new Media Centre at the back of the property. Frome Town Cllrs agreed to match fund this award with a grant of £130k, meaning the project, which already has planning permission, can start in earnest. Cllrs wanted re-assurance that the benefits to local people were maximised, and especially young people on BTec schemes would be expanded. Steve was able to provide this assurance.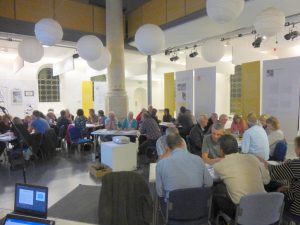 There was a passionate discussion about the evening 267 Bus Services running between Bath and Frome. Local campaigner Tracey Harding and various Cllrs informed those present that the Friday and Saturday evening service was viable and was likely to be retained by First Bus. The challenge was what to do about the Monday to Thursday service which was not viable without a subsidy. Those present also expressed a desire to explore alternatives to bus transport. It was decided that to do justice on this broad subject a further meeting was needed to be held and which the Council could explore ways of keeping the 267 evening service going as well as looking at alternatives.
The agenda and reports for last night's meeting are here and the draft minutes will be posted online over the coming week.