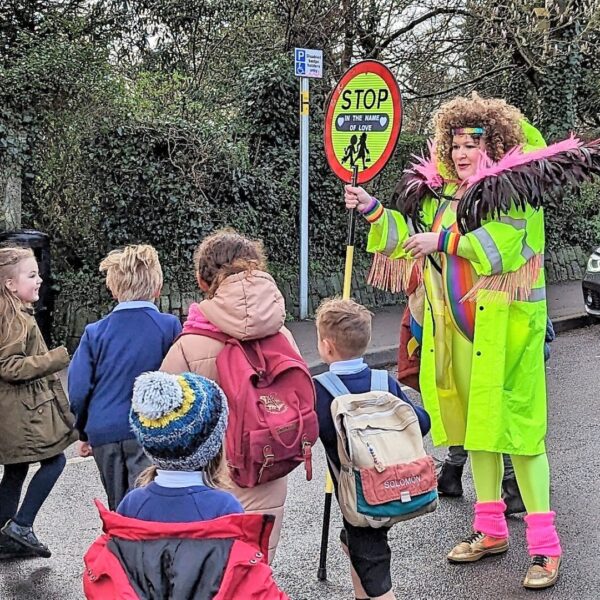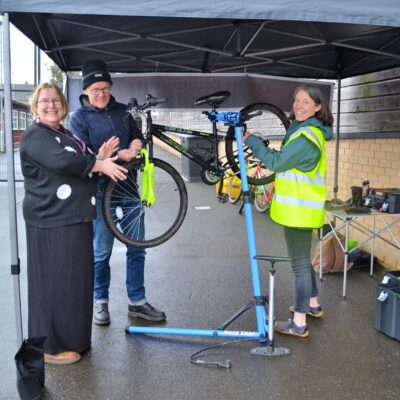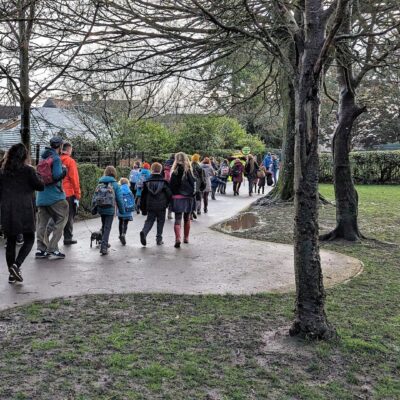 Before Easter, six schools around Frome took part in the annual 'Big Walk and Wheel' to encourage pupils (and parents!) to travel to school more actively. Pupils from Avanti Park, Trinity First School, Oakfield Academy, Hayesdown First School, Mells First School and Beckington First School all enjoyed some fun activities during the fortnight despite the weather being a little uninspiring!
The 'Big Walk and Wheel' is the UK's biggest inter-school active travel challenge run by the UK cycling charity, Sustrans. The campaign aims to inspire pupils to consider choosing to walk, cycle or scoot to school as opposed to automatically jumping in the family car each day.
The challenge saw Cheryl Sprinkler from Mojo Moves lead the 'Walking Buses' and pupils enjoyed a comedy, feel-good walk to school, boogying all the way. Cheryl safely guided around 250 children and their parents and carers to their respective schools, and everyone started their school day smiling and raring to go. Following their active journey to school, those taking part enjoyed a delicious breakfast and were treated to goodies such as croissants and plenty of fresh fruit – all very well deserved following their walks, scoots and bike rides into school.
As well as discussing the benefits of travelling more actively during school time, the Frome Community Bike Project visited along with Dr Bike who gave 64 bikes a safety check which was much appreciated by children and adults alike.
Cllr Carla Collenette of Frome Town Council said: "We were really pleased to support this great annual event. Making the choice to travel more actively not only helps to improve the air quality around the school but also encourages more movement into children's days. We hope these two weeks have inspired our younger generation to journey into school actively more regularly."
All schools were delighted by the levels of participation and recorded some great results during the challenge. Trinity First School and Avanti Park recorded a total of 5067 active journeys across two weeks which comprised of 4251 walking/wheelchair journeys, 540 scooter journeys and 276 cycle journeys. Trinity recorded an average of 77% of the whole school travelling actively and Avanti recorded an average of 68% of the whole school travelling actively. A huge well done to all those involved!
Details about the challenge are here: https://bigwalkandwheel.org.uk/