Frome's Litter Warriors haven't wasted any time in the fight against litter with two picks already under their belt so far this year!
The team have done a great job of tackling the litter at the top of Catherine Hill and last weekend saw them starting on the area around Willow Vale and the Blue House.  This latest litter pick even saw some very hardy warriors donning their waders and braving the river to ensure all the rubbish was captured.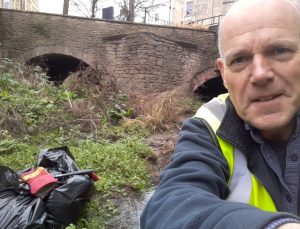 They will continue in this area for their next pick on Thursday 6th February. They will meet at the back of Iceland at 2pm for the remaining area behind Marks and Spencer, up Saxonvale, all the way to the auction house area.
Nick Ray, who is one of the organisers of Frome's Litter Warriors said, "The litter pickers have great plans for 2020 and we have already scheduled in several litter picks with dates running right up until the end of May.  Full details of dates and times can be found on the dedicated Litter Warriors page on Frome Town Council's website. Everyone is welcome to take part in the litter picks, just turn up at one of the dates. It's an activity that we encourage the whole family to get involved with, we have children's gloves and litter pickers so everyone can join in!"
For further information visit www.frometowncouncil.gov.uk/litter-warriors  and if there is an area of Frome that you would like the Litter Warriors to tackle next please email them at fromelitterwarriors@gmail.com.
Published 27/01/20