It's that time of year – the bike jumble is returning!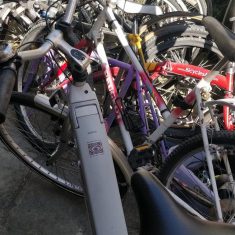 Do you have an old bike that you no longer need? Or bike accessories that have not been used for years?
 Frome Town Council (FTC) are working with Frome's Missing Links to organise Frome's third annual bike jumble that will be held in September. The model is simple: donate your old bikes and accessories, we'll check them over and then sell them at the bike jumble. All proceeds will go towards Frome's Missing Links, the local charity working to link up traffic free walking and cycling routes in and around Frome. Find out about their progress linking the path from Whatcombe Fields to Great Elm and the beautiful Colliers Way here: https://fromesmissinglinks.org.uk/
 Cllr Rich Ackroyd, said: "This is a great way to declutter your shed or your garage, if there's anything you no longer need, you can be sure that someone else can make use of it!  As more and more of us are taking to two wheels rather than four, this jumble is a great idea to allow folks to find a bike or an accessory that they need – plus it all goes to such a great cause!"
 FTC are hosting some donation sessions, and you can bring your old bikes and items along to the car park behind Frome Town Hall, off Park Road at the following times:
 Thursday 27th August 7pm – 8pm
Sunday 30th August 10am – 11am
Wednesday 2nd September 7pm – 8pm
Saturday 5th September 9am – 10am
 Further details of the bike jumble will be released soon, so watch this space.
Published 17th August 2020