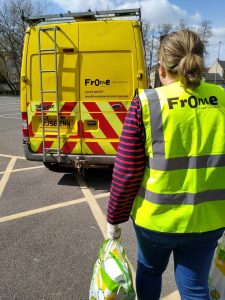 Since March this year, over 70 residents in Frome have been supported by volunteer shoppers while they shield or are required to isolate.  As shielding restrictions are lifted, some volunteers continue to shop for residents who are isolated and in need of a little extra support.
The Mayor of Frome, Anita Collier, has this week thanked the many volunteers who have supported the local Covid-19 relief efforts in the town, saying: "Over 300 residents came forward to offer their time and commitment to support local response services during lockdown and many residents have had a much improved experience as a result.  I would particularly like to thank the volunteers who have supported Frome Town Council's (FTC) Shop for Me Scheme and I know many more volunteers have been involved in supporting Frome Community Drivers, Active and in Touch and Fair Frome to name just a few – these local services have made such a difference to the lives of others in Frome over the last four months."
Anita continued "Although we are now in a period of some lighter relief to restrictions and shielding is paused, we are aware that there may be a need in the future to consider how best to meet local needs again.  I am heartened by the terrific town wide response, and how the many new and existing street networks have also played a vital role in ensuring everyone has access to food and company over this challenging period."
FTC are calling all street groups and neighbourhood networks to register themselves on a map they have created (https://www.frometowncouncil.gov.uk/neighbourhood-groups-across-frome/) .  This will help to signpost residents in those areas, letting them know a very local group is available and ready to help.  This also helps by continuing to support the growth of new groups, not only in preparation for the potential of a local lockdown, but also to help streets come together, to get to know each other and share ideas for the future to improve the areas in which they live.
To find out more about how to get involved in a street group in your area or to talk to someone about setting one up please contact Hstopford@frometowncouncil.gov.uk
Published 18th August 2020